Ryan Gosling Will NOT Team With Johnny Depp In 'The Lone Ranger' [Updated]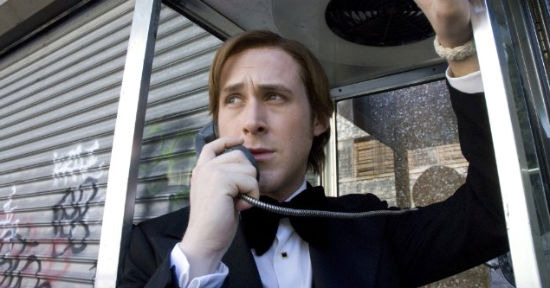 UPDATE: A rep for Ryan Gosling told Entertainment Weekly that he would not be appearing in this film. Original story follows.
Though it's still a ways off, we know that, eventually, Gore Verbinski will direct a Jerry Bruckheimer-produced, Disney version of The Lone Ranger starring Johnny Depp as Tonto. But you can't have Tonto without the title character himself and now The Wrap has learned that Ryan Gosling is in preliminary talks to scream "Hi-yo Silver!" Read more after the break.
The Wrap exclusively broke this news but, as Gosling has already committed to shoot Logan's Run this fall, there's a chance of a scheduling conflict. Verbinski has been quoted as saying he doesn't think the film will be ready to shoot until 2012 though and, if that's the case, Gosling should be available.
As for Depp, he'll be busy promoting Pirates of the Caribbean: On Stranger Tides for a while then once again team up with director Tim Burton for Dark Shadows. After that, he could be ready to shoot The Lone Ranger, if the script is ready and Verbinski hasn't committed to something in the meantime. He's currently looking at options.
What we know about this version of The Lone Ranger is slightly different. The Lone Ranger, though the title character, isn't necessarily the main character. Here's what Verbinski said about it a few months back:
The only version of 'The Lone Ranger' I'm interested in doing is 'Don Quixote' told from Sancho Panza's point of view... And hence I was honest early on with Johnny that Tonto is the part. We're not going to do it [straight], everyone knows that story. I don't want to tell that story.
The whole scenario is certainly not being rushed by Disney or Bruckheimer. They seem to know they have a potential franchise starter on their hands and they want to treat it with care. Even in The Wrap's article, they predict The Long Ranger won't hit screens until 2014.
Do you think Gosling would play a good foil to Depp?