Robert Zemeckis To Produce R-Rated 'How To Survive A Gnome Attack' For Sony Animation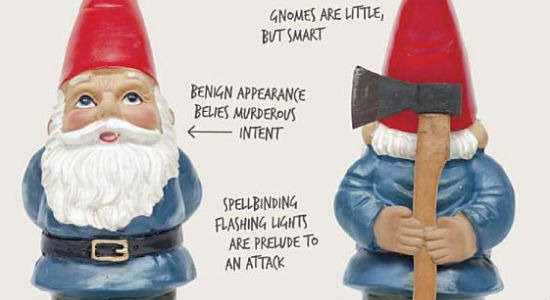 In Chuck Sambuchino's book How to Survive a Garden Gnome Attack: Defend Yourself When the Lawn Warriors Strike (And They Will), the author details how humans can survive when the innumerable garden gnomes that live on our neighbor's lawns finally rise up to take over the world. Sounds like a great premise for a movie, does it not? Robert Zemeckis seems to think so. Sony Animation has just optioned the rights to the book with the Oscar-winner attached to produce an R-rated version of the film that would combine animation with live action. Read more after the break.
Variety broke the news of the deal but was quick to state that though Zemeckis currently finds himself without a project -  due to the cancellation of Yellow Submarine – he is not, at this time, attached to direct. He seems like a great fit though, considering he did the quintessential animation and live action hybrid film, Who Framed Roger Rabbit? (We also must not forget that he's still developing Roger Rabbit 2 as well.)
There's no screenwriter attached to the film yet but, whoever gets the job will be on a tight leash. How To Survive A Gnome Attack is only budgeted in the $20-$30 million dollar range so don't expect to Independence Day with garden gnomes. It'll have to be something much more intimate.
Here's the description of the book from Amazon:
There's a new threat in town—and it's only twelve inches tall. How to Survive a Garden Gnome Attack is the only comprehensive survival guide that will help you prevent, prepare for, and ward off an imminent home invasion by the common garden gnome. Once thought of as harmless yard decorations, evidence is mounting that these smiling lawn statues are poised and ready to wreck havoc. The danger is real. And it's here.
Class 1 gnome-slayer and gnome defense expert Chuck Sambuchino has developed a proven system—Assess, Protect, Defend, Apply—for safeguarding property, possessions, and loved ones. Strategies include step-by-step instructions for gnome-proofing the average dwelling, recognizing and interpreting the signs of a gathering hoard, and—in the event that a secured perimeter is breached—confronting and combating the attackers at close range.
And this is a video created by the publisher of the book that gives a very rudimentary idea of what this book, and possibly movie, could be like.
Do you think this is a good move for Zemeckis? Are you worried about the small budget?