'Casa De Mi Padre' Teaser Trailer: Will Ferrell Performs Entirely En Español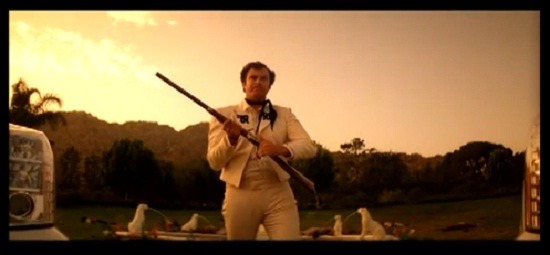 Casa de mi Padre is an unusual comedy starring Will Ferrell — a send-up of Spanish-language telenovellas that also stars Gael Garcia Bernal and Diego Luna. There's a trailer out now (possibly for a limited time) so you can see Will Ferrell performing entirely in Spanish, and sounding pretty damn natural doing so. The movie looks like lightweight comic fluff, but also pretty damn entertaining.
Here's the plot:
Armando Alvarez (Will Ferrell) has lived and worked on his father's ranch in Mexico his entire life. As the ranch encounters financial difficulties, Armando's younger brother Raul (Diego Luna), shows up with his new fiancé, Sonia (Genesis Rodriguez). It seems that Raul's success as an international businessman means the ranch's troubles are over as he pledges to settle all debts his father has incurred. But when Armando falls for Sonia, and Raul's business dealings turn out to be less than legit, all hell breaks loose as they find themselves in a war with Mexico's most feared drug lord, the mighty Onza (Gael Garcia Bernal).
Gordon and the Whale found this one lurking around YouTube, and it seems to be somewhere between a bootleg and a real release. That is, it is likely the real trailer, but probably leaked to YouTube from someone in a post-production house. Watch it now before it goes away.