George Clooney Producing Wall Street Bailout Film, Possibly To Direct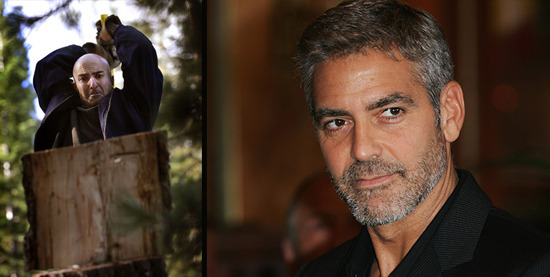 In December 2009 the Washington Post published an article called The $700 Billion Man, about Neel Kashkari (on the left, above) a Treasury Department official who was appointed as the federal bailout chief by Treasury Secretary Hank Paulson, only to retreat from Washington DC to the isolation of a small northern California town seven months later.
Now the article has been optioned, and George Clooney and Grant Heslov are producing a film based on it, with George Clooney eying it as a directorial project.
Zach Helm (Stranger Than Fiction) has been hired to write a script based on the article, and the title of his breakout script certainly applies to parts of this story. As Laura Blumenfeld's Washington Post article explains, after quitting his job in Washington, Neel Kashkari made a list of four things he wanted to do: "1. build shed; 2. chop wood; 3. lose 20 pounds; 4. help with Hank's book."
'Hank' is the Treasury Secretary, under whom the young and relatively inexperienced Mr. Kashkari set up the Troubled Asset Relief Program (TARP) to manage the $700 billion set as economic bailout funds in late 2008. That list of four things seems astoundingly easy to achieve, especially after he had to come up with the basic TARP plan in the space of a weekend. He says in the article,
Seven hundred billion was a number out of the air. It was a political calculus. I said, 'We don't know how much is enough. We need as much as we can get [from Congress]. What about a trillion?' 'No way,' Hank shook his head. I said, 'Okay, what about 700 billion?' We didn't know if it would work. We had to project confidence, hold up the world. We couldn't admit how scared we were, or how uncertain.
Reading through the original article, the film is very easy to see, and I dare you not to picture Mark Strong as Kashkari. The material is also seemingly tailor made for George Clooney, given his interests. He's got to finish The Ides of March before any other directorial gig can be finalized, but this might be a strong contender for his attention, depending upon how Zach Helm's script turns out. [Variety]