Michael Stuhlbarg Cast In 'Men In Black 3'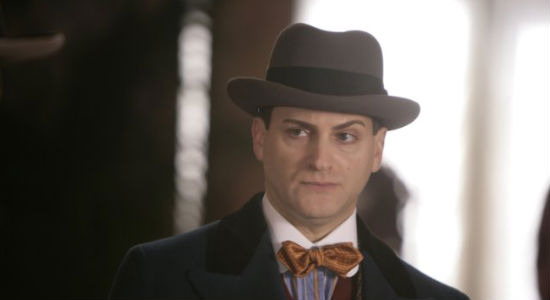 Just when you thought things couldn't get any weirder in the up and down world that is production on Barry Sonnenfeld's 3D sequel Men in Black 3, a brand new cast member has been added during the production. Michael Stuhlbarg, best known for for his roles as New York gangster Arnold Rothstein on HBO's Boardwalk Empire and as the lead in the Coen Brothers' 2009 film A Serious Man, has been cast as "Griffin," a role that Sharlto Copley had previously been circling. Men In Black 3, which is currently in production, stars Will Smith, Tommy Lee Jones, Josh Brolin, Jemaine Clement, Emma Thompson and others. Read more about the role and this wild production the break.
The Hollywood Reporter exclusively broke the news of this casting, but couldn't confirm exactly what the role of Griffin entails. When Copley was circling the picture last year, the role he was attached to was that of a "a fast-talking Yoda type alien" so it's safe to say that's probably it. That certainly seems like something Stuhlbarg, who has exhibited an incredible range in a relatively short career, could pull off. The actor will next be seen in Martin Scorsese's Hugo Cabret.
All we know about the plot of Men In Black 3 is as follows: "The villainous Yaz (played by Clement) travels back in time to kill K, 'which sets off a chain of events that ends in the destruction of the world.' Enter Will Smith and Josh Brolin (as a Young K) to save the day."
A few months back, the Hollywood Reporter did an in depth expose on the production, revealing that shooting started with nothing more than a skeleton of the script and that, despite the fact that a big holiday break was written into the schedule to finish the script, many of the film's crew were found themselves sitting around waiting for production to restart. That kind of indecision – not to mention casting a role several months into production – does not inspire the kind of confidence needed in a big budget, mega blockbuster scheduled to open, in 3D, May 25, 2012.
How worried are you about Men In Black 3? Do you think Stuhlbarg's addition is a blessing or a curse?