Sean Penn May Join Christian Bale In 'The Last Photograph'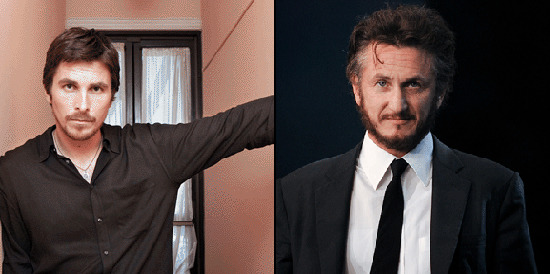 After making 300, director Zack Snyder came up with the story for a film about two Americans, a journalist and a retired soldier, who attempt to rescue a kidnap victim in Afghanistan. 300 writer Kurt Johnstad scripted the film, which is called The Last Photograph. Last summer an offer went out to Christian Bale to play one of the two leads, and now Sean Penn is moving towards the other role.
Deadline says that Christian Bale would be the reporter, "who witnesses and is the only survivor of an attack on a group of Americans." Sean Penn would be the retired Special Ops soldier who "comes to the scene determined to free a family member who has been kidnapped. The journalist agrees to help identify the kidnappers and travel the rough terrain to find them, in exchange for the story. The road brings them in confrontation with tribal regions of Afghanistan, and none of the diplomats will help."
The project is at Dark Castle, with Warner Bros. set to distribute the final product. So this is part of a slight movement on Dark Castle's part to make films that aren't overt horror/thrillers, and that's somewhat interesting. (It is also the least genre-sounding movie to come from Zack Snyder yet.) Warner Bros. didn't want to finance the film, so Dark Castle is doing it instead. Why doesn't WB want to make the film? Probably because it is the sort of not-quite-tentpole adult-oriented film that studios tend to be cautious about making now, even with the evidence from 2010 suggesting that those movies can still do quite well.
Currently original The Girl With the Dragon Tattoo director  Niels Arden Oplev is set to direct — he's been attached since last summer, too. Sean Penn's participation isn't set in stone, but if everything comes together it sounds like The Last Photograph would shoot in 2012, after The Dark Knight Rises is finished.