Joaquin Phoenix In Talks For Paul Thomas Anderson's Religious Drama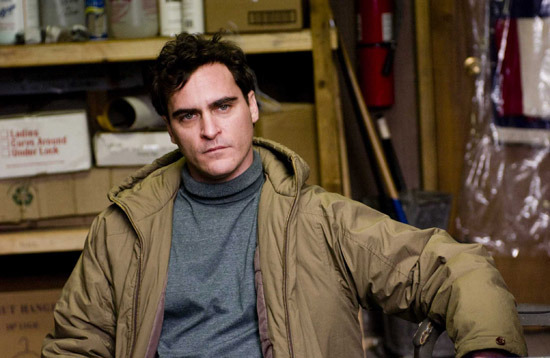 Paul Thomas Anderson's latest film, referenced as The Master, but called just Untitled Religious Drama for now, has had an arduous path through development. Philip Seymour Hoffman has been attached for some time to the role of the founder of a Scientology-like religion. Jeremy Renner was attached for some time to play his disciple, but financing fell through and the script was taking some extra work, and Jeremy Renner moved on to Mission: Impossible, Hansel and Gretel: Witch Hunters and The Avengers.
Now Joaquin Phoenix, who hasn't taken a role since his semi-retirement and the subsequent 'documentary' I'm Still Here, is in talks to play the key second role.
Variety has the scoop, saying that the character is Freddie Sutton, "an alcholic drifter who becomes right-hand man [to The Master] only to begin questioning his manipulative mentor." Philip Seymour Hoffman, meanwhile, is Lancaster Dodd, "a charismatic intellectual" and the guy known as The Master.
The film was put on hold after Universal passed on it last year, but we recently heard that champion new indie financier Megan Ellison and Annapurna Pictures were going to write a check. This is the first new casting possibility we've heard since that deal was announced. Consequently it's the best news we've had about the movie since Megan Ellison stepped in, and while I'm Still Here seriously dinged Joaquin Phoenix he can't be said to be anything other than a committed actor, and the pairing of he and PTA might be tremendous.
Meanwhile, Paul Thomas Anderson is still working on his adaptation of Thomas Pynchon's novel Inherent Vice, which could star Robert Downey, Jr. That's good casting from a business decision, but after reading the book I don't really see it. If the character is played as written it will represent a good change from the smirking, commanding presence that RDJ has developed in the past few years — think the burnout version of his Kiss Kiss Bang Bang character, and consequently a guy with much less command of the quip and the comeback. Still, as with the main pairing reported here, put those two guys together and I won't be able to look away.
http://www.variety.com/article/VR1118035347?categoryid=4076&cs=1