'Batman Live' Looks A Lot Like A Joel Schumacher Movie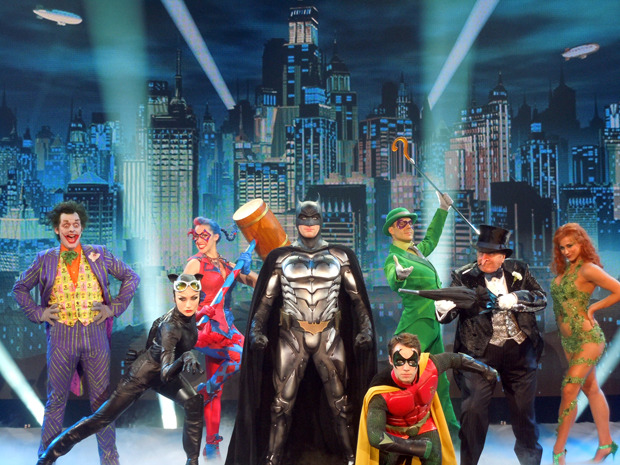 As Spider-Man: Turn Off the Dark has been a disaster of a production, over in the UK another giant superhero stage show has been coming together. Batman Live is a touring arena production designed as a fast-paced romp through a big chunk of Batman's history. It includes the origin of Robin and characters like the Joker, Catwoman, the Riddler, Penguin, Poison Ivy and Harley Quinn.
Now the first images are out thanks to a media launch event. And Holy Schumacher!, but this looks like a direct continuation of the story that was unceremoniously dropped after Batman & Robin. But then again, this is arena theater — not exactly the venue for subtlety. Check out all the pics after the break.
The world premiere of Batman Live isn't until July in Manchester, with the real tour going through the UK and eventually hitting North America in 2012. With the exception of that one set mockup, these photos don't really communicate the sense of scale that will hopefully be present in the sets. There will be pyro, a full-size Batmobile, and the Joker has some tech to show off, too.
And while I joke about the Schumacher-ness of the costumes, in truth this also looks like a bit of fun. With Christopher Nolan telling the serious Batman story on film, there's room for a more lighthearted take elsewhere, and Batman Live looks like it. Some of these costumes, too, are super-faithful to classic designs for these characters. They just happen to be a lot more colorful, even garish, than what we're used to seeing in a big production, thanks to Mr. Nolan.
[Images thanks to @BatmanLiveSpy, via Collider]