Daniel Sunjata And Two More Join 'The Dark Knight Rises' [Updated]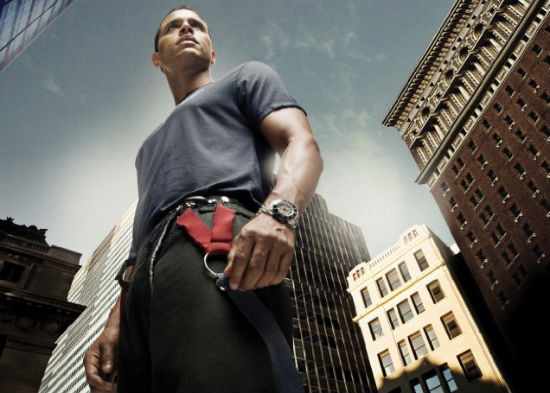 UPDATE: Variety is now reporting that Sunjata's role is that of a "courageous special forces operative" and that Diego Klattenhoff and Burn Gorman are also in talks. Read more about them after the jump.
Casting has been the thing for Christopher Nolan over the past few weeks. After locking down all of the lead roles in his highly anticipated third Batman film, The Dark Knight Rises, with actors like Tom Hardy, Anne Hathaway, Joseph Gordon Levitt and Marion Cotillard, Nolan has recently been concentrating on the smaller roles. He's cast Juno Temple, most likely as Selina Kyle's sidekick, and Josh Pence probably as a young Ra's Al Ghul. The Tracking Board now reports that Daniel Sunjata, best known for his role on Rescue Me, has joined the film in a yet-to-be-announced capacity.
According to The Tracking Board, Sunjata is "rumored to play an 'important character to the story.'" Variety says that his role is that of a "courageous special forces operative" and that also joining the cast are Diego Klattenhoff, as "a rookie cop who is looking to make a difference" and Burn Gorman, in a "supporting role."
If you don't recognize Sunjata, you probably don't watch TV. He was a regular on Law and Order: Special Victims Unit, played Reggie Jackson the ESPN show The Bronx Is Burning, was a nurse on Grey's Anatomy but is best known for playing Franco Rivera on FX's hit show, Rescue Me.
Klattenhoff was recently cast in Showtime's upcoming show Homefront while Gorman was in Layer Cake, the popular BBC series Torchwood and will appear in the Johnny English Reborn.
So how do all of these guys, mostly law officers, fit in? Let's speculate based on facts we already know. Anne Hathaway is playing Selena Kyle, who most likely becomes Catwoman. Tom Hardy is Bane, a brutal enforcer. The film will feature flashbacks with the character of Ra's Al Ghul as a younger man and it will all be shot in Pittsburgh. Other than that, we're making educated guesses. We think Joseph Gordon Levitt is Alberto Falcone but can't be sure and the same goes for Cotillard, who is probably Thalia Al Ghul, but that has yet to be confirmed.
Are you enjoying all of this wild Dark Knight Rises speculation or do you just want some official confirmations already?