'Dolphin Tale' Trailer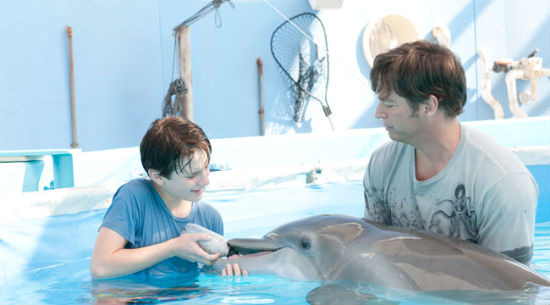 We've seen movies about handicapped people overcoming odds. We've seen movies about humans developing special relationships with animals and we've seen inspirational family movies. Dolphin Tale incorporates all three in 3D. Directed by Charles Martin Smith (Air Bud, but he's best known as Agent Wallace in The Untouchables) the film stars a tailless dolphin named Winter, playing herself in a pseudo spoiler, who is kept alive and mobile by a group of people around a Florida aquarium including Morgan Freeman, Ashley Judd, Harry Connick, Jr. and Kris Kristofferson. It'll released in 3D on September 23. Check out the trailer after the jump.
Thanks to Yahoo Movies for the trailer. Check it out right here.
Here's the official plot description:
Based on true events "Dolphin Tale" is a family film about Winter, a young dolphin who loses her tail in a crab trap and Sawyer, the introverted, 11-year old boy who befriends her. Sawyer meets the rescued dolphin at the Clearwater Marine Aquarium, a marine rehabilitation center where she lives. Sawyer rallies friends and family alike to save Winter by convincing a pioneering doctor to create a unique prosthetic attachment to restore the dolphin's ability to swim. Winter the dolphin will play herself in the movie.
In the past decade or so, I've really begun to enjoy films based on true stories that have happened in my lifetime, but I never heard about. Dolphin Tale fits into that camp. It looks a little too family-friendly than I'm used to but setting aside my cynical film fan hat, which is difficult when you see a trailer like that, it certainly seems like a story worth telling.
Also interesting is the choice to release the film in 3D. It seems like a very unconventional choice, being as it's most certainly going to be a PG film with little action, but those underwater scenes should look great.
What are your thoughts on this one?