'28 Weeks Later' Helmer Juan Carlos Fresnadillo To Reboot 'The Crow'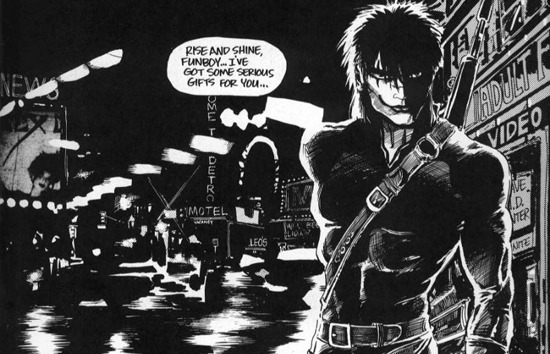 Previous rumors (from February 2011) have been confirmed: 28 Weeks Later helmer Juan Carlos Fresnadillo is now set to direct The Crow reboot. Fresnadillo was once announced as the director of the Gore Verbinski-produced big screen adaptation of the popular video game series Bioshock, and just got finished directing Clive Owen in the horror/thriller Intruders.
Previously:
The new version of The Crow has been in the works for some time now, once with Stephen Norrington in the director's chair and Nick Cave rewriting the director's script. Mark Wahlberg was attached for a moment, but all of these people walked away before the end of 2010, reportedly because a new actor came on board and wanted a new writer to make big changes to the script. Since then we've heard vague rumors about different possible directors, the last of which was Before The Fall helmer F. Javier Gutiérrez.
A big screen adaptation of the James O'Barr comic book series, the original film was directed by Alex Proyas and is possibly best known as the movie in which actor Brandon Lee was accidentally killed by a loaded gun. The story followed a man named Eric Draven who is brutally murdered and comes back to life to hunt and kill the people responsible for his and his fiancée's murder.
Producer Edward R. Pressman has said:
The setting is the southwest — the Mexico/Arizona area — and an urban [setting], Detroit or Pittsburgh or something like that...There are two locations that the film is set. Its initial platform is in the southwest and then it moves to the big city in the north, middle or eastern America, and then back. ... The Crow itself is a creature in this movie — it's not just a bird...It's got a personality and a character. Not like Godzilla exactly, but it's very different [and has] a more active role in the story.
Keep in mind that we don't know if any of those details have changed in the subsequent rewrites.
UPDATE: Read the full press release below:
Relativity and Edward R. Pressman Sign Juan Carlos Fresnadillo to Direct The Crow
Production Start Targeted for Fall 2011
(Beverly Hills, CA) April 7, 2011 – Relativity Media's President of Worldwide Production Tucker Tooley and Edward R. Pressman, the prolific producer behind The Crow franchise, announced today they have closed a deal for Juan Carlos Fresnadillo (28 Weeks Later) to direct a re-invention of The Crow, the 1994 smash hit film based on the comic book series and comic strip by James O'Barr. Relativity and Pressman will be teaming with Spain-based Apaches Entertainment on the production which is targeted to start in Fall 2011.
Fresnadillo is best known for directing 28 Weeks Later, the post-apocalyptic horror sequel to 28 Days Later, which he co-wrote and produced with long-time producing partner, Apaches Entertainment's Enrique López Lavigne. Fresnadillo also directed the critically-acclaimed Spanish-language film Intacto and is currently in post-production on Intruders starring Clive Owen, also being produced by Apaches Entertainment.
Fresnadillo will collaboratively develop the script once a writer is attached to adapt the screenplay. Casting has not yet been announced.
The film is being produced by Edward R. Pressman, Jeff Most, Relativity's CEO Ryan Kavanaugh, and Apaches' Enrique López Lavigne and Belén Atienza. Relativity's Tooley (The Fighter) will serve as executive producer. José Ibáñez, Pressman Film Corporation's Jon Katz, and Apaches' Jesús de la Vega will serve as co-producers.
The Crow adaptation will be a reboot of the iconic cult character Eric Draven, who's resurrected as The Crow to avenge his wife's murder so he can reunite with her in the hereafter, as first envisioned by graphic novelist James O'Barr.
"Juan Carlos Fresnadillo is an incredibly talented and imaginative filmmaker," said Tooley. "We are thrilled to have him at the helm and are excited to work with both Pressman and Apaches on what we all believe will be a compelling and innovative reimagining of The Crow."
Producer Edward R. Pressman remarks, "The original Crow was groundbreaking cinema; its gothic visual and musical ideas influenced a generation and cinema itself. With Juan Carlos, we have every confidence that his new Crow will have a similar impact on the contemporary audience."
Relativity recently had Golden Globe®-winner and seven-time Oscar®-nominee The Fighter in theatres, via Paramount Pictures, starring Mark Wahlberg, Christian Bale, Melissa Leo and Amy Adams as well as Golden Globe®-winner and eight-time Oscar®-nominee The Social Network via its partnership with Sony Pictures. Looking ahead, Relativity is releasing the highly-anticipated Immortals on November 11th, 2011, starring Henry Cavill, Stephen Dorff, Isabel Lucas, Freida Pinto, Luke Evans, Kellan Lutz, with John Hurt and Mickey Rourke. The studio recently announced its production of Snow White, starring Oscar®-winner Julia Roberts as the Evil Queen, Armie Hammer as the prince, and Lily Collins as Snow White, beginning production in June.
UTA represented Fresnadillo and Apaches Entertainment on the deal with Patrick Knapp of Bloom Hergott Diemer Rosenthal LaViolette Feldman Schenkman & Goodman, LLP and Katz brokering for Pressman Film Corp.
ABOUT RELATIVITY MEDIA, LLC
Relativity Media, LLC is a media and entertainment company that focuses on creating, financing and distributing entertainment content and intellectual property across multiple platforms, as well as making strategic partnerships with, and opportunistic investments in, media and entertainment-related companies and assets. Relativity owns and operates Rogue, a company that specializes in the production and distribution of films targeted to the 13-25 year old audience. Building upon its foundation of financing and producing films, Relativity has grown to include music, sports and television divisions and the next-generation social network iamrogue.com. Relativity also owns and operates RelativityREAL, Relativity's television arm, which is currently producing 14 series and more than 20 pilots including "Police Women" for TLC, "Coming Home" for Lifetime, and "The Great Food Truck Race" for The Food Network.
To date, Relativity has committed to, produced and/or financed more than 200 motion pictures. Released films have accumulated more than $15.0 billion in worldwide box office revenue. Relativity's recent films include Salt, Despicable Me, Grown Ups, Charlie St. Cloud, Dear John, It's Complicated, Zombieland, Couples Retreat, Get Him to the Greek, Robin Hood, and, most recently, The Fighter, Little Fockers, James Cameron's Sanctum in 3D, Season of the Witch, Take Me Home Tonight, Limitless, and The Social Network. Upcoming films for Relativity include Immortals, Shark Night 3D, Hop, Bridesmaids, and Cowboys & Aliens. 36 of the company's films have opened at No. 1 at the box office. Relativity films have earned 60 Oscar® nominations, including nods for Nine, A Serious Man, Frost/Nixon, Atonement, American Gangster and 3:10 to Yuma, The Wolfman, The Social Network and The Fighter. 55 of Relativity's films have each generated more than $100 million in worldwide box-office receipts.
ABOUT EDWARD R. PRESSMAN FILM CORP.
Founded in 1969, Edward R. Pressman Film Corporation has produced over 75 world-class motion pictures and helped launch the careers of many of the most prominent figures in the movie industry. The company's extensive body of work includes groundbreaking films by directors such as Oliver Stone, Terrence Malick, Sam Raimi, David Byrne, Kathryn Bigelow, Alex Proyas, Brian De Palma, David Mamet, Charles Burnett, Abel Ferrara, Wayne Kramer, Mary Harron, Jason Reitman, and Werner Herzog. Led by true industry veteran, Edward R. Pressman, the company is dedicated to producing quality theatrical motion pictures and will continue its 40-year tradition, forging new territory in both the independent and Hollywood arenas. The company is currently in post production on The Moth Diaries, the latest feature from Mary Harron (American Psycho).
ABOUT APACHES ENTERTAINMENT
Apaches Entertainment is a film production company based in Madrid, Spain, which was founded in 2009 by producers Enrique López Lavigne and Belén Atienza. Apaches is currently producing The Impossible, written by Sergio Sanchez, directed by Juan Antonio Bayona and starring Ewan McGregor and Naomi Watts for Summit and Telecinco; as well as Intruders, written by Jamie Marques and Nico Casariego, directed by Juan Carlos Fresnadillo and starring Clive Owen for Universal Pictures International and Antena 3.