Robert Redford Playing Famed Dodgers Exec Branch Rickey In Brian Helgeland's Jackie Robinson Film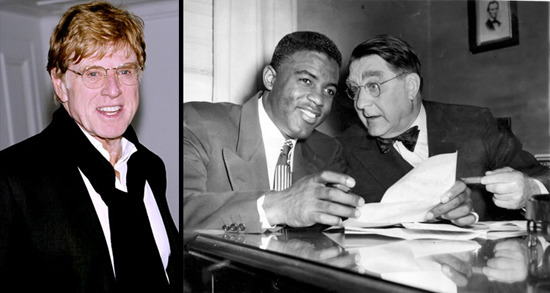 Robert Redford is already in the baseball hall of fame for playing the lead in The Natural, which is a benchmark in baseball on film. That was a piece of fiction, but now Mr. Redford is poised to play one of the most important real figures in the history of the game: Branch Rickey, who broke the color barrier in baseball by hiring Jackie Robinson to play for the Brooklyn Dodgers.
The
says that Legendary Pictures is putting together a historical drama about Jackie Robinson and Branch Rickey, and that this one will be more about the men than the game. Brian Helgeland (L.A. Confidential, Mystic River) is writing and will direct. Other screenwriters have worked on the story in the past, but Mr. Helgeland's draft will reportedly be a new take.
The paper says the film will " look less at the specifics of Jackie Robinson breaking baseball's color barrier and more at the complex relationship between Rickey, who scholars believed integrated baseball for reasons of both idealism and economics, and Robinson, the second baseman who faced tremendous discrimination when he signed with the Dodgers system in 1945."
This will bring Branch Rickey more into the eye of the general public than has been the case in some time, and it will also be a return of sorts for Robert Redford, who has done relatively little acting in the last few years.
We don't know who'll play Jackie Robinson. He's been portrayed on screen by Keith David, Blair Underwood and other actors in the past. Oddly enough, the most notable actor to play the ballplayer was actually Jackie Robinson, who played himself in The Jackie Robinson Story, released in 1950 with Ruby Dee as Rae Robinson and Minor Watson co-starring as Branch Rickey.