First Look: Colin Farrell, Anton Yelchin, Imogen Poots And Christopher Mintz-Plasse In 'Fright Night'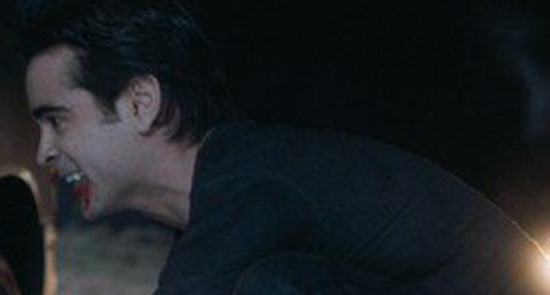 We've seen one image from the Craig Gillespie-directed 3D remake of the '80s horror classic Fright Night, but the three images below are the first real look we've had at the upcoming film. The movie tells the story of a suburban kid (Anton Yelchin) who, amid dealing with a new girlfriend (Imogen Poots) and estrangement from his old best friend (Christopher Mintz-Plasse) discovers that his neighborhood is now home to a vampire (Colin Farrell). Check out the stills below.
I know that Colin Farrell gets a lot more monstrous-looking than what you see below. I've seen the actual makeup appliances, and they were pretty great. (And created by FX vet Howard Berger.) In fact, this shot is from the tail end of the scene where the vampire really reveals himself for the first time. He's described as looking like a shark in part of the script for the scene, and I'm looking forward to seeing just how that plays on screen. (Most of that scene was recently shown at CinemaCon, so you may have read some reports of it elsewhere last week.)
Fright Night was written by Buffy the Vampire Slayer vet Marti Noxon; it hits on August 19, 2011.
Senior Charlie Brewster (Anton Yelchin) finally has it all going on: he's running with the popular crowd and dating the most coveted girl in his high school. In fact, he's so cool he's even dissing his best friend. But trouble arrives when Jerry (Colin Farrell) moves in next door. He seems like a great guy at first, but there's something not quite right—but everyone, including Charlie's mom (Toni Collette), doesn't notice. After observing some very strange activity, Charlie comes to an unmistakable conclusion: Jerry is a vampire preying on the neighborhood. Unable to convince anyone, Charlie has to find a way to get rid of the monster himself in this Craig Gillespie-helmed revamp of the comedy-horror classic.