Terry Gilliam And Tom Waits Provide Voices For Animated Short 'The Monster Of Nix'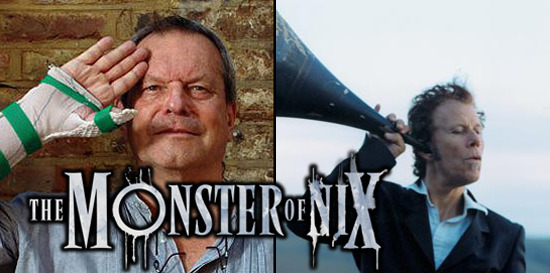 The very occasional working relationship between Tom Waits and Terry Gilliam is something that has given me great pleasure for a long time. It was a thrilling surprise when Waits played a cameo in The Fisher King in 1991; Terry Gilliam then used the Waits track 'Earth Died Screaming' for a key point in Twelve Monkeys, and it all lead up to Waits' big role in The Imaginarium of Doctor Parnassus.
Now the Gilliam/Waits partnership is on again, but with a slightly new twist: the two are providing voices for a 30-minute short called The Monster of Nix, by Dutch artist/director Rosto.
The film is an animated musical about Willy, "a troubled boy who fights the destructive force of an all-devouring monster in the village of Nix." Tom Waits voices Virgil, "a terrifying giant pitch-black swallow," and Terry Gilliam is voicing the Ranger, "who locks himself up in terror in his forest cabin."
The director said in a press release,
Tom Waits was always the main inspiration for the dark and theatrical appearance of Virgil. But I had never expected to actually have the privilege to work with Tom. The results are gobsmacking...
I asked Gilliam because I thought his voice was made for this role. He felt rather uncomfortable about the singing. And that's exactly how I wanted this character to sound: scared and insecure. The poor bastard suffered but I got exactly what I wanted.
Rosto wrote the music for the film, and the score features contributions from  the Dutch Metropole Orkest, long-running experimental band The Residents and French indie band The Dø. Here's a gallery of character posters sourced from the official site; they'll immediately give you a sense of the tone of the film.
And here's an early teaser clip which, well, is hopefully very early. Because it isn't great. The film is set to be released this spring, so hopefully we'll see some newer footage soon.