'Crazy, Stupid Love' Trailer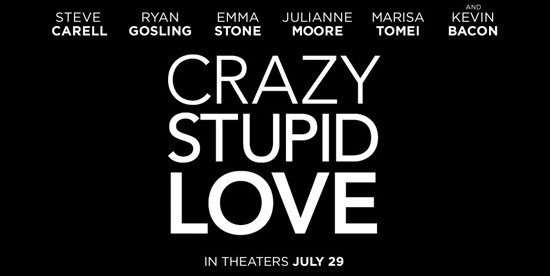 The last film by Glenn Ficarra and John Requa, I Love You, Phillip Morris, took quite a winding path to get to theaters in the US. But their follow-up, a romantic comedy called Crazy, Stupid, Love, was made with Warner Bros. and is already set to release this summer. The film stars Steve Carell as a 40-something guy whose relationship with his wife (Julianne Moore) disintegrates, leading him to seek image rehab advice from lothario Ryan Gosling.
The trailer is out now, and it lurks just after the break.
This looks like pleasant, easy to watch stuff. The cast is great (Emma Stone, John Carroll Lynch, Marisa Tomei, Kevin Bacon, Jonah Bobo, Analeigh Tipton, and more also feature) and the material isn't terribly challenging. You'll quickly get the sense that you know just how it is all going to play out, but the appeal of the film will be watching the interaction of all the characters. Especially as Ryan Gosling's character starts to face a little reality. He looks great, and I can see the potential for some unexpected depth there.
Here's the synopsis, and you can check out the HD version of Ryan Gosling's chest by going to Apple.
At fortysomething, straight-laced Cal Weaver (Steve Carell) is living the dream–good job, nice house, great kids and marriage to his high school sweetheart. But when Cal learns that his wife, Emily (Julianne Moore), has cheated on him and wants a divorce, his "perfect" life quickly unravels. Worse, in today's single world, Cal, who hasn't dated in decades, stands out as the epitome of un-smooth. Now spending his free evenings sulking alone at a local bar, the hapless Cal is taken on as wingman and protege to handsome, thirtysomething player Jacob Palmer (Ryan Gosling). In an effort to help Cal get over his wife and start living his life, Jacob opens Cal's eyes to the many options before him: flirty women, manly drinks and a sense of style that can't be found at Supercuts or The Gap. Cal and Emily aren't the only ones looking for love in what might be all the wrong places: Cal's 13-year-old son, Robbie (Jonah Bobo), is crazy about his 17-year-old babysitter, Jessica (Analeigh Tipton), who harbors a crush on Cal. And despite Cal's makeover and his many new conquests, the one thing that can't be made over is his heart, which seems to keep leading him back to where he began.