Comic Book Bits: Stan Lee Talks Cameos And 'The Amazing Spider-Man'; Plus 'Justice League,' 'The Governator,' And 'TMNT' Character Posters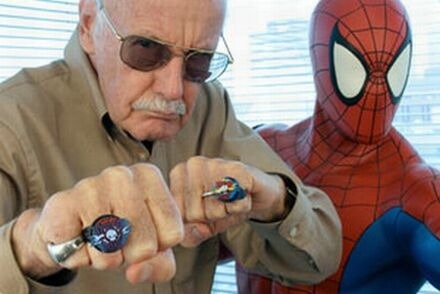 In the wake of WonderCon there are a great many little comic book tidbits floating around, so let's start with Stan Lee. With summer approaching he is talking about cameos. To THR he jokes that he'd like to be in The Dark Knight Rises ("I wonder why DC Comics doesn't have me do a cameo in Batman? Just think how people would come to see that. They wouldn't believe it.") and to Digital Spy he sings his own praises in Thor: "...like all [my other cameos] it is magnificent. It's the high spot of the movie. I'm a little sorry about these cameos because people are so affected by them and influenced by them they don't notice what else is going on in the movie."
Oh, and the creator of Spider-Man doesn't have a problem with a British actor playing his creation ("I think the more actors that we use from away in other countries is brilliant," he says, "because we are one world and we've got to stick up for that.") not that we expected to hear anything else. Stan Lee isn't really a guy that's going to start raging against the studio system now. But it's good to get his blessing, I suppose.
After the break, Arnold Schwarzenegger talks about his new creation, Ryan Reynolds talks superheroes and there are new TMNT character posters.
The Governator still seems like a terrible, terrible idea, but (again) it is for kids, so I'm not going to spend much energy worrying about it, or even dismissing it. But there are great comments from Arnie today about power fantasies, and I think he's confusing some general power fantasies with some specific ones of his own:
The reason these heroic characters are always popular is because we are all somewhat limited in our real world. Even when I was governor I wished that I could do the things that I wanted to do but I couldn't because of the system, the way it works. Or because of the way the law works... The people have certain rights and those rights have to be protected — and they should be protected — but for some criminals you don't feel like they ought to be. In real life you have to first get a search warrant and by that time he's gone. It drives you kind of crazy!.. In a heroic TV show, you can make it happen. We can all live out our fantasies. So the idea is that this governor, after he retires, says, 'With all that I have learned in my life about sport and camaraderie and discipline and stunts, now I'm going to do all the things that when I was in office I was not able to do.
So this is basically his Dirty Harry? Got it. But for kids!
Next up: Justice League. Earlier today, when talking about Ryan Reynolds voicing the lead character in the animated Turbo, I mentioned that we could ironically see that film on screens at the same time as Justice League hits with a new Green Lantern actor. And here are comments direct from Ryan Reynolds to MTV about the possibility of appearing in Justice League. Right now he isn't in the film, though that could change:
I hear about it, but I hear about it the same way you do: from a Ouija board, late night over a glass of Chardonnay. I don't know much about it other than it is in the makeup and the plans and the development slate of Warner Brothers. But, I don't have anything to do with it.... "The fan in me thinks it's fantastic. Of course you wanna see all those iconic characters standing together in one room. As far as being involved, I have nothing to do with it as of yet.
Finally, here's a gallery of character posters for the relaunched Teenage Mutant Ninja Turtles, which will hit Nickelodeon later this year. With the exception of the kid-friendly eyes the style is actually pretty close to the Eastman and Laird art that first appeared in early TMNT comics almost 30 years ago, and that's pretty cool. [GeekTyrant]