Russell Brand And Diego Boneta Join 'Rock Of Ages'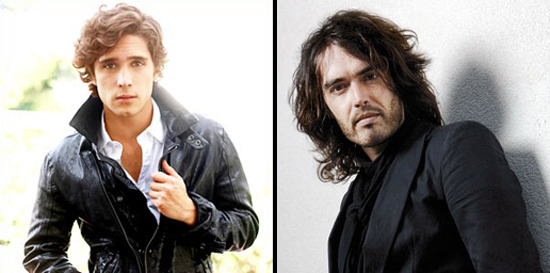 Last week there was mention that Adam Shankman's Rock of Ages film musical may have found its young leading man in the person of Diego Boneta. (He's had roles on the new 90210 and Pretty Little Liars, but may still count as an almost-unknown to some.) Now there is confirmation that he'll play Drew Boley, the aspiring star at the center of the musical. In addition, Russell Brand is finally coming on after months of being rumored to join the cast.
Vulture reported on Diego Boneta being cast last week, and Deadline and other outlets now confirm it. The actor was originally a singer in Mexico, and was even in a boy band before he had a solo hit.
In the musical story which is built around '80s hits by Journey, Pat Benatar, Bon Jovi and more, His character, Drew Boley (Drew Bowie in the stage version), takes a job working as a busboy in the Bourbon Room, which is run by Dennis (Alec Baldwin). He falls for Sherrie (Julianne Hough) but falls afoul of rocker Stacee Jax (Tom Cruise), who is managed by Paul Giamatti. Amy Adams is in talks to play a reporter who also falls for Stacee Jax. (Chris D'Arienzo, Michael Arndt and Alan Loeb are writing the script.)
Adam Shankman says,
On top of his completely un-self conscious charm, he's a movie star the same was as I felt when I auditioned Zac Efron, Channing Tatum and Liam Hemsworth,. It comes down to being able to identity the 'it' factor, and Jen and I have been lucky enough to do it several times. He has it and is every inch a movie star.
Meanwhile, The Wrap confirms Russell Brand being in final talks to join the cast, but we don't know his role. Rock of Ages releases on  June 1, 2012.