Watch The WonderCon 'Thundercats' Footage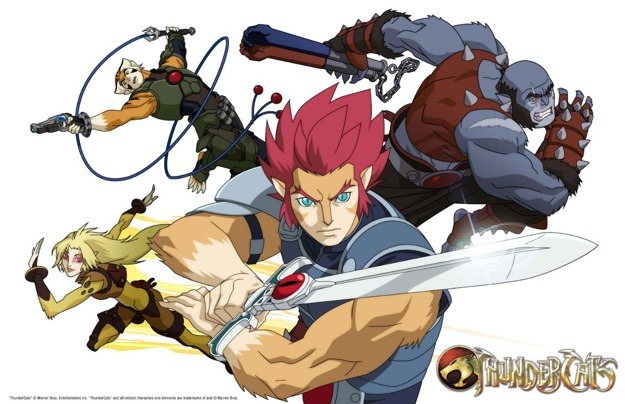 Over the past couple months we've started to hear bits and pieces about the new Thundercats series that will soon run on the Cartoon Network. The basic designs look pretty good — changed a bit, updated a bit, but still the same characters. And while I've never had nostalgia for the show, some of the details that are starting to trickle out suggest that the show isn't just a nostalgia grab, but an attempt to really build a new story out of the goofy old characters and concept. If anyone is going to revive an '80s cartoon, this might be the way to do it. Footage of the new version was shown at WonderCon this weekend, and you can watch the two-minute clip below.
It sounds like this show will do a lot to expand the overall story of the Thundercats. There is a definite story arc planned — this isn't an episodic 'adventures of the Thundercats' sort of series. We'll see more of the various tribes that exist in their world, and see how Lion-O reluctantly takes leadership of the cats. Oh, and while you can expect to see Snarf, don't expect him to talk. The twins Wileykit and Wileykat will probably end up  being the main comic relief.
Here's the footage, followed by the basic press release that went out with info when the image above was released.
Roaring to life through WBA and Studio4°C's use of the Japanese animated artistry of anime, "ThunderCats" characters Lion-O, Mumm-Ra, Panthro, Cheetara and others will spring off the screen with realistic cat-like characteristics inconceivable in previous incarnations.
The new "ThunderCats" will appeal to viewers who have loved the characters all their lives as well as young newcomers to the franchise. A sweeping tale combining swords and science and boasting ferocious battles with the highest of stakes, the grand origin story of Prince Lion-O's ascension to the throne – and of those who would thwart his destiny at any cost – takes on epic dimensions in this sharp new telling. As the forces of good and evil battle each other in the quest for the fabled Stones of Power, Lion-O and his champions learn valuable lessons of loyalty, honor and mortality in every episode.
"ThunderCats" is executive produced by Sam Register ("Teen Titans," "Ben 10," "Batman: The Brave and the Bold"). Michael Jelenic ("Batman: The Brave and the Bold," "Wonder Woman") and Ethan Spaulding ("Avatar: The Last Airbender") are the producers.