'The Darkest Hour' Moved From August To December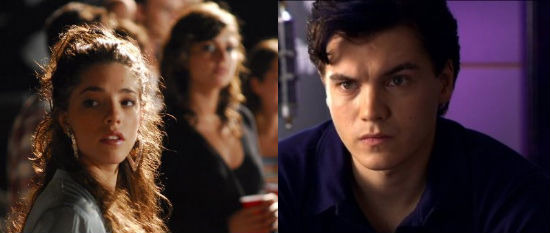 Another domino has fallen in an amusing cause and effect release date shift that began when Martin Scorsese's Hugo Cabret moved from December to Thanksgiving. That forced Rise of the Apes, which had already moved from the summer, to move back to the summer. That then caused The Smurfs to move up into July and now Summit has pushed The Darkest Hour, their 3D alien invasion film starring Emile Hirsch and Olivia Thirlby from its original August 5 release date (originally shared with The Smurfs and Rise of the Apes) to December 23. Obviously there's no confirmation that all of these things are related but it's a little too intertwined to be coincidental, no? Read more after the jump.
The Hollywood Reporter was one of several outlets to report the release date shift and, in my estimation, the biggest winner out of this has to be 20th Century Fox. They went from having Rise of the Apes in an overly crowed June to having a nice slot at Thanksgiving, to that then becoming overly crowded, to a packed August 5 and now they have August 5 pretty much locked down in the key 18-35 male demographic as its only wide release competition is the romantic comedy The Change-Up.The Darkest Hour, on the other hand, now moves to an impossibly crowded pre-Christmas weekend alongside Steven Spielberg's The Adventures of Tintin: The Secret of the Unicorn, David Fincher's The Girl With the Dragon Tattoo and Cameron Crowe's We Bought a Zoo. Sure, a 3D alien invasion movie counter programs all of those films but it's still going to be difficult to gain any traction against those three incredible filmmakers.
Directed by Chris Gorak, who worked in the art department on Fight Club, Minority Report, Fear and Loathing in Las Vegas and more, The Darkest Hour is about a group of American teenagers in Russia who try and survive after a worldwide alien attack. It's being billed as "the first American 3D production to film in Russia."
How do you think The Darkest Hour will do on that weekend?