First Look: Robert De Niro In 'Buried' Director's 'Red Lights'


Multiple choice question: is this photo of Robert De Niro as he does black and white Twin Peaks cosplay, or a still from his new film Red Lights? Sadly (for those who want to see him dress up as the Little Man From Another Place) it is the latter. The film is from Rodrigo Cortes (Buried) and also stars Sigourney Weaver, Cillian Murphy and Elizabeth Olsen, who made huge waves in Sundance for her roles in Martha Marcy May Marlene and Silent House.
See a larger version after the break.
Red Lights is a "thriller about paranormal activity" that follows Margaret Matheson (Weaver), "a para-psychologist who attempts to debunk a very reputable psychic (De Niro) who has just returned to the limelight after 30 years." Elizabeth Olsen said,
Robert [De Niro] plays a world renowned psychic and Sigourney is a psychology professor, and I play her student... Cillian Murphy is my love interest, though that's not a huge part of the story.
The film is shooting now; we don't have a release date at this point. Click the image to enlarge slightly.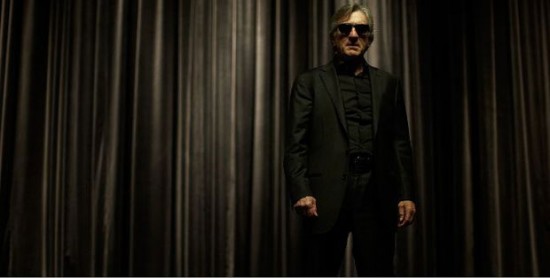 [STYD]