Steve Carell And Keira Knightley Both 'Seeking A Friend For The End Of The World'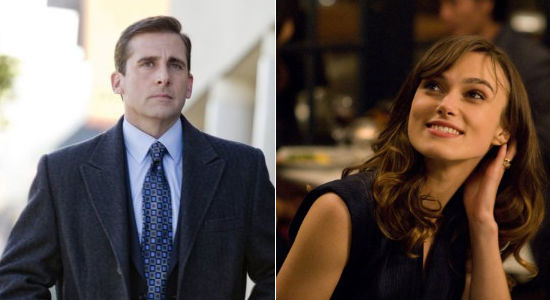 With inevitable apocalypse on the horizon, love and laughter are probably two things most people would seek out. In Hollywood, though, they tend to believe we'd be all about big explosions or enlightenment. Movies about the end of the world usually take comedy and romance and make them secondary to the detailed destruction of a city or the religious significance of it all. In reality though, if we knew it was all going to end, we'd probably just like to fall in love and laugh with our friends.
At least, that's what Lorene Scafaria seems to think. The screenwriter of Nick and Norah's Infinite Playlist has written, and will make her directorial debut, with Seeking A Friend For The End of The World, which follows a budding romance on the eve of a humanity destroying asteroid. Steve Carell has just signed on to play the male lead while Keira Knightley is in talks to play his neighbor, a young woman who agrees to accompany Carell as he searches for his high school sweetheart. Read more about the project and the casting after the break.
Deadline broke the news of this casting and say that the film, which has producers but no distributor, could start shooting in May.
And while Carell is locked to make this his first starring role after leaving The Office, Knightley has yet to sign. According to Deadline, though, Scafaria "sparked" to the idea of Carell and Knightley so it seems like they will probably end up being the stars.
Here's how Deadline describes the film:
The film takes place at a time when mankind is forced to absorb the fact that an incoming asteroid will end humanity. Carell plays a man suddenly alone when his wife leaves in a panic. His high school sweetheart writes him saying she wants to be with him when the world stops. His neighbor (Knightley) accompanies him on the road trip as love blooms at the worst possible time. Despite the doomsday climax, the film has a somewhat comic and romantic tone.
Coming from a first time director, I know this is a bold statement, but I feel like that story – told the right way and with the right balance – could be an awards contender. It just seems like it holds that perfect combination of drama, humor, romance and meaning. Carell has yet to truly prove he's an actor with that kind of range but I think he has it in him. Knightley, on the other hand, is perfect.
Do you agree that about the potential of this project? And what do you think of this casting?