Will Beall Writing 'Logan's Run'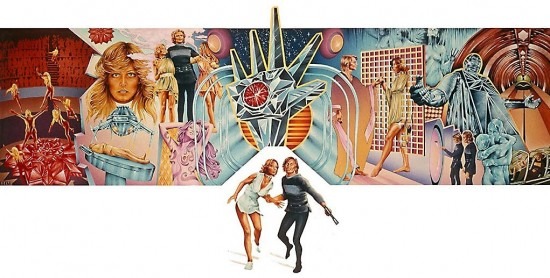 When Nicolas Winding Refn and Ryan Gosling became the new guys attached to direct and star in the remake/new adaptation of Logan's Run we cheered. Given that Mr. Refn had been very clear about his intentions to do a big studio movie, he might have chosen well with this one. The original Logan's Run is silly and dated, yes, but given that it is about people who flee from a decadent, youth-obsessed culture, there's a lot of material in the story that makes it relevant today. If the script is in the right hands, that is.
The last draft of Logan's Run was by Alex Garland, but we figured that the script would undergo some work before shooting. And now Will Beall, the screenwriter who wrote Tales From the Gangster Squad, which Warner Bros. is very high on right now, is in negotiations to script.
The report from THR makes it sound like this will be a more or less all new script, though elements of the Alex Garland draft could be incorporated. Warner Bros. likes Will Beall quite a bit right now; in addition to this and Gangster Squad, he was hired a while back to write the Lethal Weapon reboot. No word on where that stands or if the studio plans to move forward with it. For Logan's Run, he'll reportedly go back to the 1967 novel by William F. Nolan — the same thing Alex Garland did with his draft.
Without having read or seen any of Will Beall's work (he's also got a novel, L.A. Rex, which is based on his prior career as a cop, and is a writer for Castle) I can't say if this is a good idea. But the studio enthusiasm for Gangster Squad — a fact-based film meant to be an actor's showcase more than anything else — certainly suggests good things. And Nicolas Winding Refn has done very little wrong so far, so he's got my trust.