Sean Penn And Ryan Gosling Offered Roles In 'Tales From The Gangster Squad'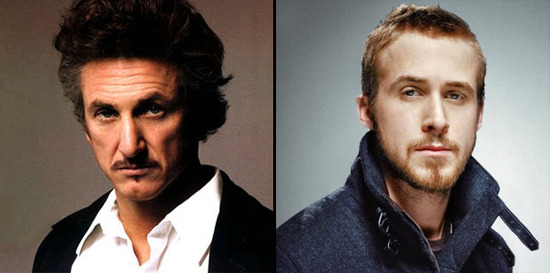 For the past year Warner Bros. has been moving forward with development of Tales From the Gangster Squad, a movie based on LA Times reports about attempts to curtail the movement of organized crime into LA in the '40s. A litany of possible directors was considered last year, including Ben Affleck, Paul Greengrass, Darren Aronofsky and more. Ruben Fleischer (Zombieland) finally got the job, and WB has now greenlit the film and casting is in progress.
No one is cast yet, but Deadline reports that Ryan Gosling has been offered one of two key cop roles, and Sean Penn has been offered the role of LA crime kingpin Mickey Cohen.
I don't know enough about the cop roles to do more than accept that Ryan Gosling will quite possibly be a solid lead lawman. But Sean Penn as Mickey Cohen could be beautiful. So many of the actor's roles have been controlled and dour in recent years, and Mickey Cohen would be an opportunity to become a very dynamic, larger than life character. (I keep thinking of how Sean Penn might use some of the buoyant energy he projected as Harvey Milk, only channeled in a much different and more frightening direction for Mickey Cohen.) I'm keeping my hopes in check for now because this is just an offer, but if Sean Penn accepts, Gangster Squad will become a lot more appealing.
Meanwhile, Deadline also says that Warner Bros. is developing a new Al Capone movie called Cicero. That's scripted by Walon Green, who has a pretty storied resume filled with hits and misses. He scripted The Wild Bunch (to which Sam Peckinpah did some hefty rewwrites) as well as The Border, Sorcerer, The Brink's Job and (ouch) RoboCop 2. He's also worked as a documentary director, creating the great and difficult to find insect film The Hellstrom Chronicle.
Deadline says Cicero could fall into the hands of Harry Potter director David Yates, but WB denies that any real movement has happened.