Jack Ryan Reboot Crawling Through Development; Chris Pine Likely To Be Seen First In 'Star Trek 2'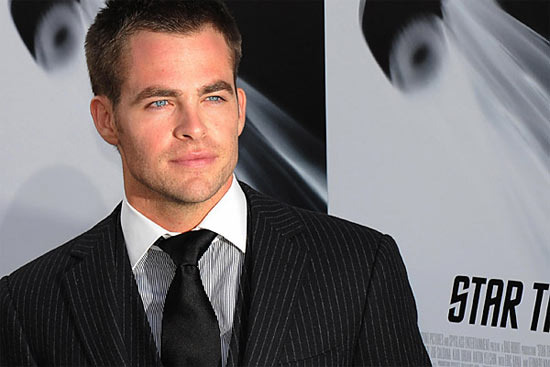 After the success of Star Trek, Paramount decided to enter the Chris Pine business in a serious way. The company set the actor to star in Star Trek 2 and tapped him for the reboot of Tom Clancy's Jack Ryan character, who had previously been played by Alec Baldwin, Harrison Ford and Ben Affleck. But development of the Jack Ryan film has been more difficult than perhaps the studio expected, and now it sounds like that film is being pushed back to make way for a fall shoot for Star Trek 2.
Deadline says that Steve Zaillian, who did rewrite duties on Patriot Games and wrote Clear and Present Danger (both being previous Jack Ryan films) was going to rewrite the new film, but has now pulled out. Similarly, there is the implication that Jack Bender could move on from the director's chair, though that hasn't happened yet.
The film was going by the code name Moscow, and features a young Jack Ryan and jumps off from a helicopter crash in which Ryan was the only survivor.
The good news is that the report suggests that Paramount is trying to craft a film that will be good enough to launch a new franchise — and therefore will also hopefully be good enough to be worth watching — rather than hit a release date. But there is already a long string of writers on this one (Hossein Amini, Adam Cozad, Anthony Peckham, then Adam Cozad again, and likely someone else to take over where Steve Zaillian decided to bail.)
The stereotype is that studio films with a long list of screenwriters are often garbage, but that doesn't have to be the case. Many films have more writers than the public ever realizes, and so long as there is a strong singular vision guiding that fractured writing process, it can work. (See: Pixar.) So does the new Jack Ryan movie have that guiding light? Frankly, we don't know. Lorenzo di Bonaventura and Mace Neufeld are producing, but we don't know how heavy a guiding hand either producer has. Mace Neufeld said about the film last year:
We pick him up when he's on Wall Street...[but] the Jack Ryan movies have never been action films. They're kind of 'thinking man's thrillers.' Jack is referred to as a 'water-walker' because of his ability to jump ahead to conclusions. That's very big in all the Jack Ryan films and that's how we want to portray him. He's a teacher. He's a historian. He's a linguist. And he's really smart.
But at this point it looks like we'll see Star Trek 2 before we see a new Jack Ryan movie, and hopefully Paramount will use the extra time to get a script right.