$999.99 'Scarface' Limited Edition Blu-Ray To Drop September 6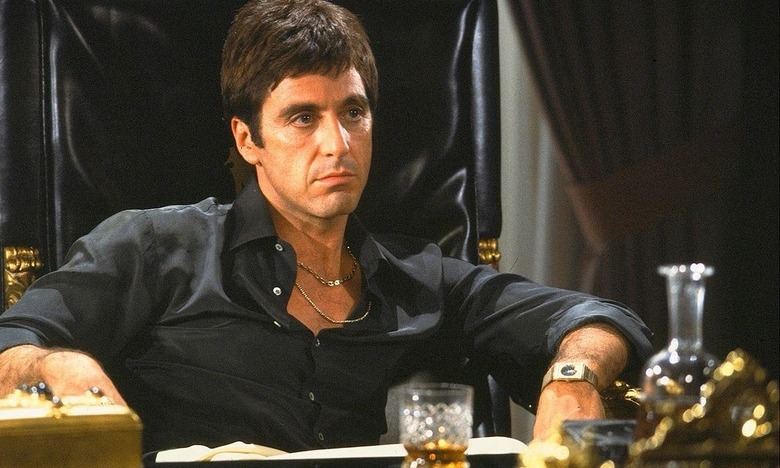 We may receive a commission on purchases made from links.
Sure, you might think you love Scarface. But do you really love Scarface? Like, say, to the tune of $999.99?
That impressive figure is what it'll cost you to get the limited-edition Blu-ray of the gangster classic, dropping Sept. 6, and it's quite a jump from the $19.98 "Widescreen Two-Disc Anniversary Edition" DVD that's currently on the market. So what does that extra $980.01 get you? Find out after the jump.
If, on the other hand, you want to show your love for Scarface without dropping quite so much cash, you may want to consider submitting your Scarface-inspired fan art into a contest sponsored by Universal Studios Home Video. The studio will select 25 works, and fans will vote for their top 10. Those 10 pieces will then be made into "art cards" for the limited-edition Blu-ray, and the top vote-getter's artwork will run on a billboard in a major city. Check out the details on the Scarface Blu-ray Facebook page.
Or, if you love Scarface but are neither artistically inclined nor quite that flush with cash, you can just spring for one of the lesser DVD editions. Universal will be releasing two other Blu-ray versions on the same date — one "regular" edition, which won't include the digital copy or 1932 film, and one "limited-edition" version, which won't include the handcrafted humidor or quite the same level of indulgent satisfaction. This limited edition is currently on pre-order at Amazon for a much more manageable $34.98.
Watch the trailer for the Blu-ray release below: