John Travolta And Nicolas Cage Could Re-Team For Two New Films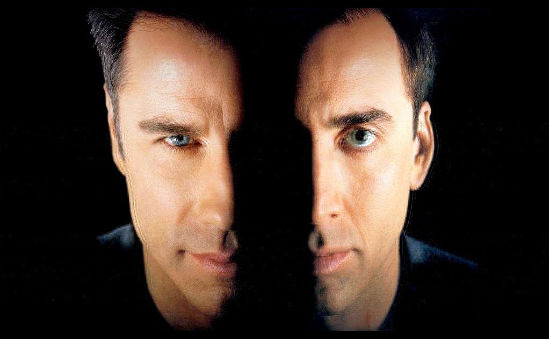 Two of the most famous, craziest and controversial actors working in Hollywood today could possibly team up for one or two upcoming films. John Travolta and Nicolas Cage, who previously co-starred in the 1997 John Woo blockbuster Face/Off, are rumored to be circling two upcoming projects. The first is Shrapnel, written by Evan Dougherty and directed by John McTiernan. The second is Sea Trial, based on the novel by Frank De Felitta. Shrapnel would go first, possibly this summer, as Sea Trial has yet to find funding, but Vulture reports Travolta and Cage are both interested in both films. Read more about them after the break.
Vulture, who exclusively broke the news of these projects, says that the 2008 Black Listed Shrapnel had locked up McTiernan last year. It stalled, though, when the Die Hard-director was fined $100,000 and sentenced to a year in prison for lying to a jury in a Hollywood wiretapping case. That case is currently in appeals though and it seems like McTiernan is back in the saddle. Shrapnel is about "a former Bosnian soldier who seeks vengeance against the American who badly wounded him by disguising a deadly war game as a friendly backwoods hunting trip."
Chuck Roven is producing Sea Trial, which would be written and directed by Raymond De Felitta (City Island) based on his father's book. The novel sounds sort of like Hostel on the seven seas as an adulterous couple set out to take a nice, romantic cruise only to find things on the ship are not what they seem.
Whether or not either of these films will get off the ground, or find a way to procure the services of these two well-known, high paid actors, is yet to be seen but – they're interested, and that's a start. Travolta and Cage obviously displayed a great, hilarious chemistry in Face/Off and it would be a treat to see them back together again. Do you agree?