'Angry Boys' Teaser Trailer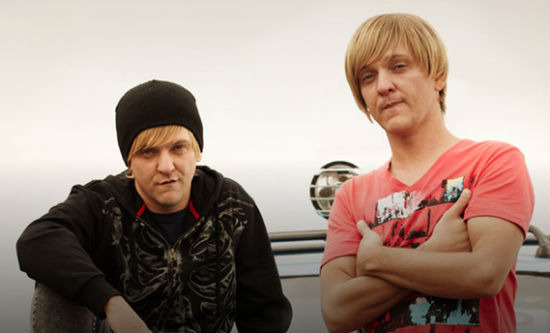 Though he wrote and starred in Summer Heights High, of the funniest shows to air on U.S. television in the last several years, most Americans don't know who Chris Lilley is. That's sure to change when his latest show, Angry Boys, premieres on HBO in the coming months. The Australian comedian, who previously wrote and starred in two series, We Can Be Heroes and Summer Heights High, the latter of which aired on HBO in 2008, once again writes and stars as all the lead parts in a comedy series, this time focusing on the different roles men play in society. On Angry Boys, Lilley himself plays a pair of co-dependent brothers, a former surfing great, an untalented rapper, a prison guard grandma and an overprotective Asian mother. Fans of Summer Heights have been clamoring for a glimpse at Lilley's latest work,and we've got the first one after the jump.
Here's your first look at Angry Boys thanks to HBO.
Though no one has seen much of Angry Boys – which shot for seven months and was edited for a year – I've heard the show is funnier than both of Lilley's two previous shows combined. We Can Be Heroes, which never aired in the United States, followed a group of characters – all played by Lilley – who were nominated to be Australian of the Year. Summer Heights High followed three characters – again, all played by Lilley – who showed off the different sides of a high school. Each was incredibly well-received across the world, particularly the home country of Australia, but didn't quite break out here in America. With Angry Boys, though, Lilley has reportedly taken his comedy even further, making the both the characters and situations more offensive and more poignant (his trademark) and really allowed his personality to shine through. I heard that two characters in particular – Jen Okazaki and a rapper named S.Mouse – have a whole bunch of surprises up their sleeves.
Also, this will be the first time U.S. audiences meet Daniel and Nathan (seen above), but Lilley fans know them as the stand-outs in Lilley's first series, We Can Be Heroes.
HBO has yet to announce a premiere date for Angry Boys, but it will almost certainly be by early summer.
Are you a fan of Lilley's material? If so, are you excited for Angry Boys? If you aren't a fan, I highly urge you to check out Summer Heights High. It's amazing.