Oscar-Winner Tom Hooper To Direct 'Les Miserables'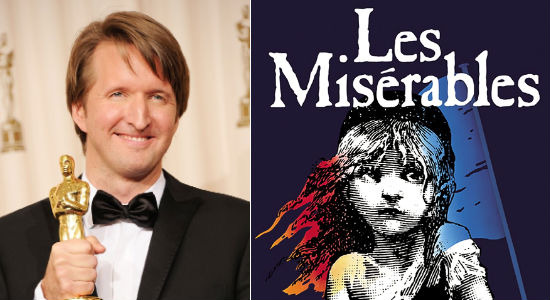 Coming off his recent Best Director Oscar win for The King's Speech, Tom Hooper is going back in time from 20th century England to 19th Century France. He's in talks to direct a new version of Les Miserables, based on the novel by Victor Hugo but best known from its Tony Award-winning Broadway musical adaptation. Les Mis is the story of a peasant named Jean Valjean who steals a loaf of bread for his starving family and is sent to prison. After being released on parole, he breaks it, assumes a new identity and eventually becomes wrapped up in a revolution while living his life on the run from his true past. Read more about Hooper's version of the film after the break.
Variety broke the news of Hooper's probable involvement in this film, which they refer to as an "adaptation of the musical" as opposed to the original novel. So, it seems Hooper's version will in fact be a musical. That's a good thing considering in 1998 director Billie August made a big budget version starring Liam Neeson, Geoffrey Rush and Uma Thurman that bombed at the box office. That film, however, didn't include the incredible songs written by Claude-Michel Schönberg and Alain Boublil.
Costume drama seems to be Hooper's comfort zone, as he previously helmed some episodes of an Elizabeth I TV-series, the award-winning HBO drama John Adams and, of course, Best Picture winner The King's Speech. There's no doubt if it's done right, audiences will turn out for a well-made musical adaptation of Les Mis and Hooper, being the hot period-costume director in town right now, seems like the man to do it. Considering the incredible source material, producers are obviously hoping for a few tickets to Oscar night in 2013 or 14.
Les Miserables will be distributed by Universal and produced by Cameron Mackintosh, Tim Bevan and Eric Fellner. Bill Nicholson is writing the script.