This Week In DVD & Blu-Ray: The Tourist, Skyline, How Do You Know, Yogi Bear
We may receive a commission on purchases made from links.
This Week in DVD & Blu-ray is a column that compiles all the latest info regarding new DVD and Blu-ray releases, sales, and exclusive deals from stores including Target, Best Buy and Fry's.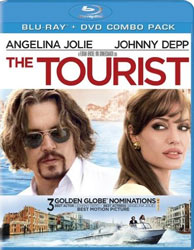 THE TOURIST
You've heard of crimes of passion. The Tourist is the opposite. It's a film so deprived of spirit or spontaneity that it seems to vanish from existence the moment its credits roll — or at least it would were it not for the spectacularly inane surprise ending, carelessly followed by a wholly inappropriate song selection (by the nonetheless great MUSE, who were also weirdly featured in the film's trailer). Both inclusions close an already inert romance caper on a final, "F*** you, we really don't care." Which is fine, because I didn't either. How could anyone? The movie devotes all of ten minutes to Johnny Depp and Angelina Jolie engaging on any level that could be deemed romantic, and even then they share zero romantic chemistry. It didn't bother me at first, because I was operating under the assumption that their relationship had yet to be developed. Little did I know that only moments later would Depp be declaring his resounding devotion to Jolie, indicating that perhaps I had missed a scene where the actors conveyed even the slightest hint of genuine affection for one another. I hadn't.
Available on Blu-ray? Yes.
Notable Extras: DVD – A director commentary, 2 featurettes ("A Gala Affair", "Bringing Glamour Back"), and an outtake reel. Blu-ray – Includes everything on the DVD, as well as 3 additional featurettes ("Canal Chats", "Action in Venice", "Tourist Destination – Travel the Canals of Venice").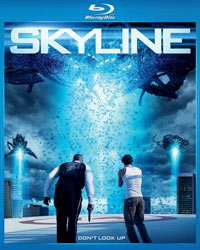 SKYLINE
Skyline is an alien invasion movie that consists primarily of whinging douchebags watching stuff happen from an apartment. Sometimes they watch stuff happen from the roof, or the parking lot. Sometimes they watch stuff happen through windows, or a telescope. But, no matter where they're watching from, that's the only purpose they serve — as a proxy for the audience to be presented a show reel of CGI action occurring around LA. Only on the rarest of occasions do they actually engage with the aliens, as seen at the end of the film. In the closing credits. In still frames. Those final moments though? They are gloriously awful, as astounding in their badness as they are unrelenting in their hilarity. The film is almost worth watching for the last ten minutes alone.
Available on Blu-ray? Yes.
Notable Extras: DVD & Blu-ray – A commentary with Directors Greg and Colin Strause, a second commentary with Co-Writer/Producer Liam O'Donnell and Co-Writer Joshua Cordes, deleted and extended scenes, alternate scenes, and a Pre-Visualization feature.
EXCLUSIVE DEAL:
What? Blu-ray + DVD combo pack ($22.99).
Where? Best Buy.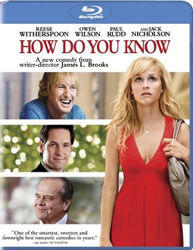 HOW DO YOU KNOW
There is not a single beat in How Do You Know's interminable two-hour running time where the characters don't seem fully aware that they're taking part in a romantic comedy, which is a problem when almost all of that running time is dedicated to those characters engaging in belabored conversations about their own insecurities and occupational woes. That's all James L. Brooks seems concerned with here, repeating the encounters until all semblance of a plot or conflict has been lost. It's not just dull, it's annoying. Worse still, the film's two male leads are fighting for the affection of a woman who's earned their affection as little as they've earned hers, making it all the harder to maintain the slightest bit of interest in any of the ensuing relationship squabbles. When the film had ended, I felt as though I had completed a feat of endurance.
Available on Blu-ray? Yes.
Notable Extras: DVD – An audio commentary with the filmmakers, select scenes commentary with director James L. Brooks and actor Owen Wilson, deleted scenes with commentary by director James L. Brooks, a blooper reel, and an Extra Innings feature. Blu-ray – Includes everything on the DVD, as well as an additional Conversation with James L. Brooks and Hans Zimmer featurette, a "The George" feature, and an Interactive Script Gallery.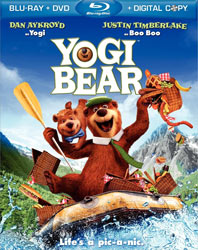 YOGI BEAR
In the original Hanna-Barbera cartoons, Yogi Bear was conniving, but innocently so, approaching all food-related obstacles in his path with an urbane charm and collected, easy-going joviality. In 2011's abomination, however, Yogi Bear is a bumbling dickhead. He has no charm. He has no dignity. He has no illusions of sophistication. He's just irritating — an abrasive presence that's more akin to a rambling, boozed-up homeless man than the Yogi Bear I knew as a kid. Never before have I so desperately wanted the protagonist of a kid's film to be shot and killed and stuffed for all to see. (Thankfully, someone has already obliged.)
Available on Blu-ray? Yes.
Notable Extras: DVD – A Yogi Bear Mashup, and a Jellystone Park Jewels feature. Blu-ray – Includes everything on the DVD, as well as a Spending A Day at Jellystone Park featurette, a Looney Tunes Short: Rabid Rider, an Are You Smarter Than The Average Bear? Game, and a digital copy of the film.
Other noteworthy DVD (and Blu-ray) releases this week...
The Venture Bros. (Season 4, Vol. 2) – The Times of Harvey Milk (Criterion Collection) [DVD / Blu-ray]
Noteworthy Blu-ray-specific releases this week...
The Venture Bros. (Season 4) – Stand By Me – The Sandlot – Awakenings

NOTES: Some deals may vary by store. Some deals may be in-store only. All deals are for DVDs unless otherwise noted.

$9.99 – Blu-ray sale: The Road, Pirate Radio, Funny People, Caddyshack, Major League, Pandorum
$9.99 – Boy Meets World (Season 3), Beavis and Butt-Head (Vol. 3), Clarissa Explains It All (Season 1)
$12.99 – DuckTales (Vol. 3)
$14.99 – Animaniacs (Vol. 1)
$19.99 – The Ren & Stimpy Show (Season 1 & 2)

2 for $12 – 7 Seconds, Are We Done Yet?, Blood & Chocolate, The Craft, The Devil's Own, The Grudge (2004), Hitch, It Could Happen to You, The Legend of Zorro, National Security, Roxanne, Running With Scissors, RV, S.W.A.T., So I Married an Axe Murderer, Vertical Limit, Walk Hard: The Dewey Cox Story, XXX, XXX: State of the Union