'Jack The Giant Killer,' 'Rock Of Ages,' 'One For The Money' Get Release Dates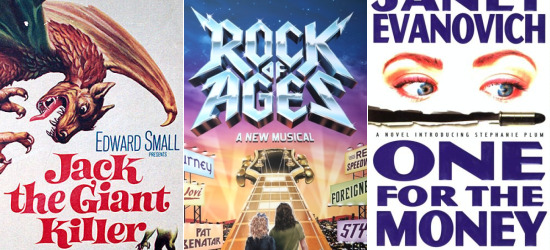 We may only be three months into 2011, but that doesn't mean it's too early to start getting excited for 2012. Release dates have just been announced for three films to open next year: Bryan Singer's "adult fairy tale" Jack the Giant Killer, the Broadway musical-based Rock of Ages, and the Katherine Heigl "comedy crime pic" One for the Money. Read more after the jump.
One for the Money is an adaptation of Janet Evanovich's bestselling series featuring the character Stephanie Plum, whom Variety describes as "an unemployed lingerie buyer who becomes a bounty hunter to make ends meet." Co-starring alongside Heigl will be John Leguizamo, Jason O'Mara, and Debbie Reynolds. Julie Anne Robinson (The Last Song) is directing.
Skip ahead to summer, and we'll be seeing the release of Rock of Ages, set for June 1, 2012. Adam Shankman is directing the film, based on the hit Broadway musical. The film is still looking to fill at least one major role, but already has quite a cast: Mary J. Blige, Tom Cruise, Julianne Hough, and Alec Baldwin have all signed on. The story revolves around the '80s rock scene, and the musical's soundtrack is made up of various '80s hits by artists like Bon Jovi, Poison, and REO Speedwagon.
Two weeks after that, June 15, 2012 will mark the opening date of Singer's fantasy epic Jack the Giant Killer. Here's the synopsis:
When a princess is kidnapped, a long-standing peace between men and giants becomes threatened, and a young farmer is given an opportunity to lead a dangerous expedition to the giant kingdom to rescue her.
Nicholas Hoult (About a Boy, the upcoming X-Men: First Class) will fill the title role. The film will also feature Eleanor Tomlinson as the princess, Ian McShane as her father the king, Ewan McGregor as the king's head of security, and Stanley Tucci as the king's evil advisor. On the giants' side, Bill Nighy and John Kassis will be playing the two-headed leader of the giants.