/Film Boston: IFFBoston Announces Lineup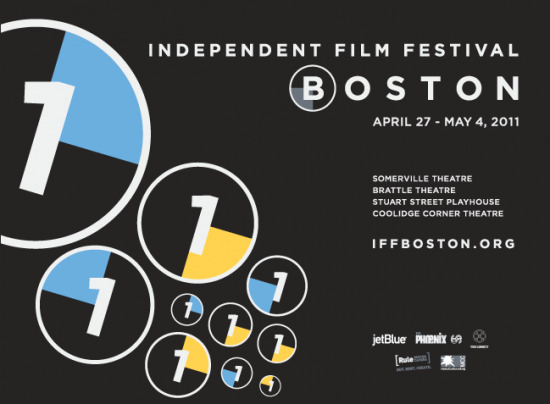 The Independent Film Festival of Boston recently released their full line-up and it's a doozy. Sundance favorites such as The Future and Submarine will be there, along with awesome documentaries like Being Elmo (WITH ELMO IN ATTENDANCE!!!) and Page One: A Year Inside the New York Times. I'm looking forward to films I wasn't able to catch at Sundance and SXSW, such as the legal documentary Hot Coffee, the heartbreaking How to Die in Oregon, and the new fascinating Conan O'Brien film. Takashi Miike's 13 Assassins also looks like it will rock the house.
The full line-up is below. The festival is April 27th through May 4th, and it's one of my favorite movie events of the year. If you live anywhere in New England, I invite you to come and check it out. You can follow IFFBoston on Facebook for updates or buy your passes now!
Narrative Features
13 ASSASSINS directed by Takashi Miike
ANOTHER EARTH directed by Mike Cahill
BELLFLOWER directed by Evan Glodell
BENEATH CONTEMPT directed by Benjamin Brewer
THE CATECHISM CATACLYSM directed by Todd Rohal
CIRCUMSTANCE directed by Maryam Keshavarz
FANNY, ANNIE & DANNY directed by Chris Brown
THE FUTURE directed by Miranda July
GREEN directed by Sophia Takal
LITTLE ROCK directed by Mike Ott
THE MULBERRY TREE directed by Mark Heller
OLIVER SHERMAN directed by Ryan Redford
ON THE ICE directed by Andrew Okpeaha MacLean
SAHKANAGA directed by John Henry Summerour
THE SALESMAN directed by Sebastien Pilote
SEPTIEN directed by Michael Tully
STAKELAND directed by Jim Mickle
SUBMARINE directed by Richard Ayoade
TERRI directed by Azazel Jacobs
TRIGGER directed by Bruce McDonald
THE TRIP directed by Michael Winterbottom
THE TROLL HUNTER directed by Andre Ovredal
THE WHISTLE BLOWER directed by Larysa Kondracki
Documentary Features
BEING ELMO directed by Constance Marks
THE BENGALI DETECTIVE directed by Philip Cox
BETTER THIS WORLD directed by Kelly Duane & Katie Galloway
BOBBY FISCHER AGAINST THE WORLD directed by Liz Garbus
BUCK directed by Cindy Meehl
BURMA SOLDIER directed by Nic Dunlop, Ricki Stern, & Annie Sundberg
THE CHINESE ARE COMING TO TOWN directed by Ronja Yu
THE CITY DARK directed by Ian Cheney
COLOR ME OBSESSED: A FILM ABOUT THE REPLACEMENTS directed by Gorman Berchard
CONAN O'BRIEN CAN'T STOP directed by Rodman Flender
CONVENTO directed by Jarred Alterman
CRIME AFTER CRIME directed by Yoav Potash
CULTURES OF RESISTANCE directed by Iara Lee
DRAGONSLAYER directed by Tristan Patterson
EL BULLI: COOKING IN PROGRESS directed by Gereon Wetzel
GOD WILLING directed by Evangeline Griego
GRANITO: HOW TO NAIL A DICTATOR directed by Pamela Yates
HEAVEN + EARTH + JOE DAVIS directed by Peter Sasowsky
HOT COFFEE directed by Susan Saladoff
HOW TO DIE IN OREGON directed by Peter Richardson
IF A TREE FALLS: A STORY OF THE EARTH LIBERATION FRONT directed by Marshall Curry
IVAN & IVANA directed by Jeff Silva
LAST DAYS HERE directed by Don Argott & Demian Fenton
MAKE BELIEVE directed by J. Clay Tweel
PAGE ONE: A YEAR INSIDE THE NEW YORK TIMES directed by Andrew Rossi
PROJECT NIM directed by James Marsh
PUPPET directed by David Soll
PUSH: MADISON VS. MADISON directed by Rudy Hypolite
RAISING RENEE directed by Steven Ascher & Jeanne Jordan
SONS OF PERDITION directed by Jennilyn Merten & Tyler Measom
SUPERHEROES directed by Michael Barnett
WE STILL LIVE HERE directed by Anne Makepeace
WHO TOOK THE BOMP?: LE TIGRE ON TOUR directed by Kerthy Fix
WINDFALL directed by Laura Israel
Short Films
8 directed by Daniel Laabs & Julie Gould
AFTER YOU LEFT directed by Jef Taylor
ALL DAY YEAH directed by Charlie Anderson
BABY directed by Daniel Mulloy
BOB AND THE TREES directed by Diego Ongaro
THE BOWLER directed by Sean Dunne
BOY directed by Topaz Adizes
CHAINSAW FOUND JESUS directed by Spencer Parsons
THE CONTRACT directed by Lina Mannheimer
DEEPER THAN YESTERDAY directed by Ariel Kleiman
THE DENTIST directed by Alex Mallis
FLYING ANNE directed by Catherine Van Campen
FRACTURE directed by Nicolas Sarkissian
ICE HOCKEY directed by Larry Cohen
ICH BIN'S HELMUT directed by Nicolas Steiner
IRMA directed by Charles Fairbanks
JUPITER ELICIUS directed by Kelly Sears
LITTLE HORSES directed by Levi Abrino
MR. HAPPY MAN directed by Matt Morris
NEGATIVIPEG directed by Matthew Rankin
PIONEER directed by David Lowery
POSTER GIRL directed by Sara Nesson
PROTOPARTICLES directed by Chema Garcia Ibarra
THE STRANGE ONES directed by Christopher Radcliff & Lauren Wolkstein
TATOOINE directed by Eric Power
WE'RE LEAVING directed by Zachary Treitz
YOUNG BIRD SEASON directed by Nellie Kluz