Casting Bits: Ed Harris Is John McCain In HBO's 'Game Change,' Elizabeth Olsen Joins Josh Radnor's 'Liberal Arts'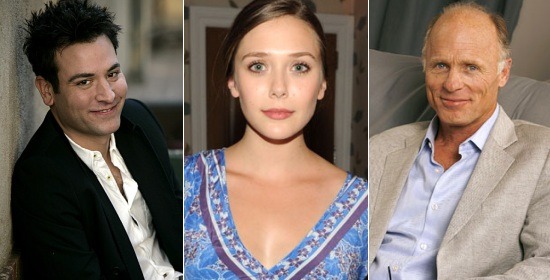 Ed Harris has joined HBO's Game Change, to play the John McCain to Julianne Moore's Sarah Palin. The film is an adaptation of the bestselling nonfiction book Game Change: Obama and the Clintons, McCain and Palin, and the Race of a Lifetime by political journalists John Heilemann and Mark Halperin, about the 2008 presidential race. Game Change reunites director Jay Roach and screenwriter Danny Strong, who previously won Emmys for their work on HBO's Recount.
I liked the casting of Moore as Palin, and Harris as McCain seems like a good fit too. Not only is Harris an excellent actor, he actually does kind of look like the movie-star version of McCain, don't you think? This project is sounding better and better as more names get attached. Casting for other major roles, including that of eventual victor (SPOILER ALERT) Barack Obama, have yet to be announced. [EW]
After the jump, How I Met Your Mother star and budding director Josh Radnor picks up a love interest for his new project.
happythankyoumoreplease was frequently compared to Zach Braff's Garden State, and now it sounds like Liberal Arts might have a thing or two in common with The Last Kiss, which Braff starred in (but did not direct) after Garden State. If Radnor keeps this up, look for him to appear as a never-nude if that long-rumored Arrested Development film ever comes to fruition. (Kidding. Although that would actually be pretty awesome.) [The Hollywood Reporter]Discuss: Who would you like to see cast as Hillary Clinton and Barack Obama? Are you excited for Liberal Arts? Who would win in a death match, Radnor or Braff?