'Clash Of The Titans 2' Begins Production; Plot Revealed; Gemma Arterton Not Returning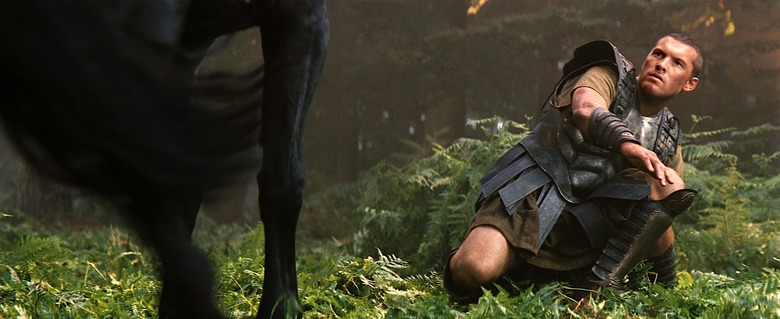 The Clash of the Titans sequel, which has been referred to as Wrath of the Titans but a press release today calls Clash of the Titans 2, started shooting this week under the direction of Jonathan Liebesman (Battle: Los Angeles). Sam Worthington returns to star as Perseus, but it looks like Gemma Arterton's commitment to Hansel and Gretel: Witch Hunters means she definitely won't be in the film, as her name is MIA from the release. We've now got a pretty full cast line-up, and a full plot for the film, after the break.
Some of the core cast is returning: Sam Worthington is Perseus; Liam Neeson is Zeus; Danny Huston is Poseidon; and Ralph Fiennes is Hades. Then Rosamund Pike plays maiden turned warrior Andromeda; Edgar Ramirez is Ares; Toby Kebbell is Argenor; and Bill Nighy is Hephaestus. The press release confirms quite a few things that have been talked about over the past couple months, such as Liam Neeson and Danny Huston returning, and the casting of Bill Nighy.
Here's the plot:
A decade after his heroic defeat of the monstrous Kraken, Perseus—the demigod son of Zeus—is attempting to live a quieter life as a village fisherman and the sole parent to his 10-year old son, Helius. Meanwhile, a struggle for supremacy rages between the gods and the Titans. Dangerously weakened by humanity's lack of devotion, the gods are losing control of the imprisoned Titans and their ferocious leader, Kronos, father of the long-ruling brothers Zeus, Hades and Poseidon. The triumvirate had overthrown their powerful father long ago, leaving him to rot in the gloomy abyss of Tartarus, a dungeon that lies deep within the cavernous underworld.
Perseus cannot ignore his true calling when Hades, along with Zeus' godly son, Ares (Edgar Ramírez), switch loyalty and make a deal with Kronos to capture Zeus. The Titans' strength grows stronger as Zeus' remaining godly powers are siphoned, and hell is unleashed on earth. Enlisting the help of the warrior Queen Andromeda (Rosamund Pike), Poseidon's demigod son, Argenor (Toby Kebbell), and fallen god Hephaestus (Bill Nighy), Perseus bravely embarks on a treacherous quest into the underworld to rescue Zeus, overthrow the Titans and save mankind.
While the first film suffered a lot of script issues and reworking that hopefully won't plague this film, Battle: Los Angeles didn't exactly inspire huge confidence that this sequel will be a big step up from Clash. (I didn't hate Battle: LA like some did, but would be hard-pressed to call it good.) But hey, at least Toby Kebbell is in this one. He's great.