'Cinema Verite' Trailer #2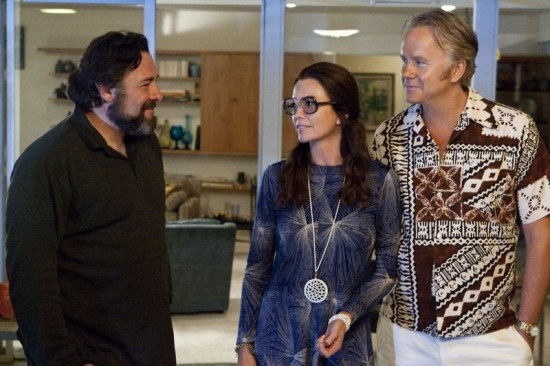 Long before The Real World, Survivor or Jersey Shore, producer Craig Gilbert created An American Family. The PBS documentary special that aired in 1973 was unlike anything ever put on television. It chronicled the real life, daily struggles of the Louds, a seemingly perfect California family who were not only catapulted to fame by the film, but helped usher in a whole new genre: reality television. Cinema Verite is an HBO Original Film that tells the behind the scenes story of this groundbreaking piece of popular culture, starring James Gandolfini as producer Craig Gilbert along with Diane Lane and Tim Robbins and Mrs. and Mrs. Loud, the main subjects of the film.
Directed by Shari Springer Berman and Robert Pulcini (American Splendor), Cinema Verite premieres on HBO April 23. We recently highlighted a first glimpse at the film but you can check out the full trailer after the jump.
Here's a brief sample of the synopsis of the film from the HBO official website:
"An American Family" was a total departure from the television shows of the time when it aired in 1973, and brought public scrutiny to a family unprepared for the consequences. It put the Louds in the spotlight as the parents (Diane Lane, Tim Robbins) struggled with their marriage while raising their children. In particular, Pat was criticized for her support of her openly gay son Lance (Thomas Dekker) at a time when homosexuality was rarely represented on television.
Cinema Verite gives a behind-the-scenes look at how the original PBS series was created by filmmaker Craig Gilbert (James Gandolfini). While he aimed to have an impact on culture, he also felt that the family's struggles were relatable to many Americans in a way that the Brady Bunch and the Partridge Family were not. The crew of Alan and Susan Raymond (Patrick Fugit, Shanna Collins) spent seven months filming the family in 1971 and were often at odds with Gilbert about what content was appropriate to film.
With that cast and level of talent behind the film, I have a feeling that not only is Cinema Verite going to be a solid movie, but also a three decade early look at what's wrong with television today.