Jerry Stahl Writing 'The Thin Man' For Johnny Depp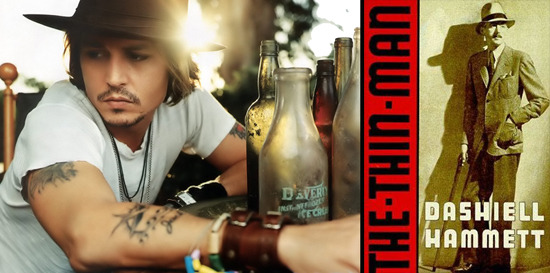 Last year, there was news that Johnny Depp wanted to star in a new version of The Thin Man, based on the Dashiell Hammett novel that spawned a six-film series in the '30s and '40s. He roped in his Pirates of the Caribbean director Rob Marshall, but we haven't heard much about the project since. Would this one move forward or, like other films to which Johnny Depp has been attached over the years, would it hit the back burner?
Right now, the film is taking a small step forward as a screenwriter has been hired. Jerry Stahl (Permanent Midnight) will adapt the novel for Warner Bros.
THR says that the idea is to create a script that "would give [The Thin Man] a contemporary attitude but retain the period setting." The story follows drunkard private eye Nick Charles as he and his wife Nora are drawn into a murder case involving a duplicitous family.
Jerry Stahl is an interesting choice. He may be best known for the heroin-fueld memoir Permanent Midnight, which was adapted to a film of the same name in 1998 with Ben Stiller playing Stahl. He has worked primarily as a TV writer, working on Moonlighting, Alf, CSI and penning one of the tipping point season two episodes of Twin Peaks, where the Laura Palmer plotline started to give way to disparate and often self-conscioud threads of 'weirdness.' Oh, and he wrote Bad Boys II, which has to count for something.
Previously:
The '34 film version of The Thin Man is great — breezy, with great rapid-fire dialogue and ideal casting in William Powell and Myrna Loy — but owing to the production code of the time, some of the novel's more salacious suggestions were glossed over. And while there's a lot of hard drinking in the film, it's nothing compared to the book, in which Nora Charles often says "Nick, how about you stay sober today?" before her husband has another drink for breakfast.
Incidentally, the image above shows the original cover to The Thin Man, and that's Dashiell Hammett pictured. He was a detective for the Pinkerton Agency before he was a writer, and Nick Charles is partially based on his own experiences. In the trailer for the original film version, below, you can see William Powell as Charles/Hammett stepping right out of the book cover.