Jodie Foster Planning To Direct A Sci-Fi Thriller, Still Cast In 'Elysium'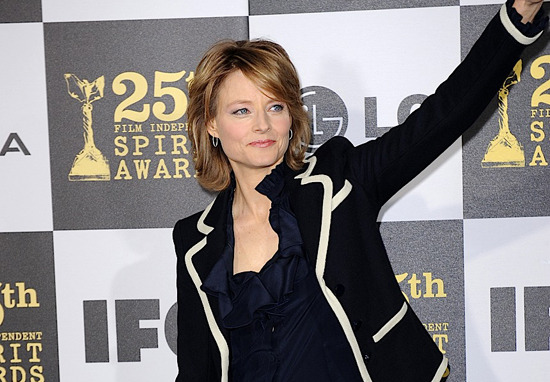 Jodie Foster has been in the news all week thanks to the SXSW premiere of her film The Beaver, which stars Mel Gibson as a guy who, shall we say, loses his way before finding it again with the help of a hand puppet. (Peter was not a fan.) How do you follow a movie with as much rubbernecking public interest as The Beaver, which marks Mel Gibson's return to the screen after a very public meltdown in 2010? How about with a sci-fi thriller? Jodie Foster has one in the script stage, and would like to direct it.
Speaking to the LA Times, Jodie Foster said,
There's a family element to it, but it's much more a genre movie. I'd like to do that 'cause that's a world I live in as an actor but I've never really gone to as a director.  I'd still have to have all the other stuff in a film. It can't just be, 'There's a bad guy, there's a monster.' It has to have all the other stuff too... It's not anywhere close to being ready... I don't write. I rewrite, but I don't write, so that always puts me at the mercy of  some enormous talent that comes out of the woodwork that somehow has the same obsessions as me.
That quote is a bit obscure with respect to whether she's writing the film or working with a screenwriter.
Oh, and with respect to Neill Blomkamp's Elysium, she's definitely doing the film (after casting a bit of doubt about that last month) but it sounds like a small part. She confirmed the role and the SXSW press conference for The Beaver (via The Playlist) and says that it is only three weeks of work. So probably a supporting role at most. Though depending on how Neill Blomkamp shoots the film, he could potentially get a lot of material out of three weeks.