Peter Pan Is The New Snow White: Five Projects In Development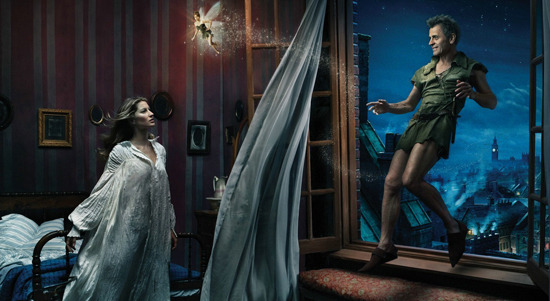 Hollywood has never been a town that likes original ideas. It likes safe and established and easy. But sometimes the attraction to stories with those qualities veers into bizarre obsession. So it has been lately with anything that looks like a fairy tale or romantic fantasy story. We've got multiple Snow White movies in development with two racing towards production, several possible Wizard of Oz offshoots, and similar projects like Red Riding Hood, Jack the Giant Killer and Hansel & Gretel: Witch Hunters.
Can we blame the fact that the Harry Potter and Twilight series are nearing the end of their run, leaving producers everywhere scrambling to find new ways to capture audiences that will no longer turn towards those mega-franchises? Do studios need something to start standing in for comic books as source material? Or is it just some zeitgeist current that leaves everyone looking towards dark romantic fantasy? Impossible to tell, really, but the trend isn't dead yet. Peter Pan is the latest development mini-craze, and no less than five Pan projects are in play right now.
THR runs down the five different Peter Pan projects that are either making the rounds or have already been set up:
The.Never.Land, a spec script by John Swetnam, which "tells the story of Wendy and the forever-young boy with a Twilight-ish spin."
Peter Pan , a pitch by producer Jeff Rake that features "a Pan family adventure concept."
Pan, written by Billy Ray with Channing Tatum attached, which "reimagines the classic 1904 stage play (and later novel) by J.M. Barrie with the boy and the dastardly Captain Hook as brothers."
Neverland, a spec script by Aaron Henry and Kirk Kjeldsen in which "Pan [is] recast as a villain abducting London's children, while Hook, the hero, must stop him."
Neverland, a Syfy miniseries that is a prequel of sorts to Peter Pan. The cast includes Rhys Ifans, Anna Friel, Bob Hoskins, Charles Dance, Raoul Trujillo and Charlie Rowe, and Keira Knightley.
A couple of these sound genuinely dreadful: The.Never.Land, and the Neverland spec that makes Peter Pan the villain. Fortunately, those could very easily die on the vine because of the fact that Syfy is already moving forward with its own Neverland and Sony seems keen on beating everyone else to the feature film punch with Pan. That's where we are with these movies: being happy about the fact that the less-lousy sounding ones might prevent the really awful-sounding ones from getting made.