Tom Arnold Says 'True Lies 2' Could Be Arnold Schwarzenegger's Next Movie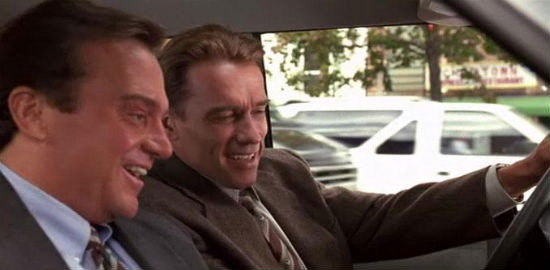 Ever since he announced his return to acting, rumors have run rampant about what project Arnold Schwarzenegger would chose to do as his return film. He's seriously considering over a dozen scripts, many of which are sequels or reboots to some of his beloved films: Predator, The Running Man, Terminator among others. According to Tom Arnold, who co-starred with Schwarzenegger in the James Cameron action film True Lies, the pair have both read and loved a script for a sequel to that film and he believes it could be the one Schwarzenegger chooses to do next. Read Tom Arnold's hilariously optimistic quotes after the break.
Arnold was talking to Movieweb when he said the following, so thanks to them for the exclusive:
I have read a great True Lies 2 script, and I hope we are able to do it. Knock on wood. Arnold Schwarzenegger is excited. I am excited....We have both read the script. There is a script that James Cameron and a guy named Jeff Eastin, who created the TV show White Collar, wrote. It is really great. Jim can't direct it. But he can produce it. We hope it gets done. We have a few fun things we want to do. I am supposed to remain cool about this. For me, it would be a lot of fun to work with the guys again.
So if Cameron can't direct (he's got Avatar 2 and 3 to start worrying about), who might helm the film?
There is a list of really good directors. There have always been people who were interested in doing it. I let those guys handle that. I put in my two cents.
He then tagged his thoughts with this statement:
I am excited. All I can say right now is, I know that Arnold and I will work together. A lot of people are sending him scripts now. He is carefully going through them, deciding what he wants to do. He wants to have some fun. He wants to do something that is worth his time, but fun. Hopefully, we can get this thing figured out. And we can get something on track. I am just waiting. I am following his lead.
Arnold (Tom, not Schwarzenegger) also said he pitched Sylvester Stallone the idea of bringing back a bunch of the famous action movie sidekicks for The Expendables 2, but that seems like even more of a pipe dream than True Lies 2.
Before we seriously consider these claims, lets just address Tom Arnold. He seems like a very nice guy, but he's obviously selling himself all over town, hoping to capitalize on this mini 80s action resurgence. You certainly have to take anything he says with a grain of salt. But, salt taken, let's talk True Lies 2.
Last we heard about True Lies 2, it was set up as a TV series that landed at ABC with Cameron producing. However, that was before producers realized they might be able to get Schwarzenegger back. One can only assume that Lightstorm would prefer to make a movie with the original cast as opposed to a TV show that could get lost in the shuffle of spy shows.
As a huge fan of the original film, I was always kind of curious of where the story went once Harry and Helen began to team up. However, with Helen knowing Harry is a spy, it kind of ruins the whole crux of the movie. If Eastin's screenplay gives it another hook beyond a husband and wife spy team, then it sounds good. If Jamie Lee Curtis was game, of course.
The other major factor is Cameron. Of course he can't direct but, for me, he has to do more than just sign off on it. He "signed off" on Sanctum as a producer and that was a huge piece of shit. I'd want him to have some creative input, even if it's just in the story stage.
Do you think this film will come to fruition or do you believe it will strictly live on TV? What do you hope Schwarzenegger does as his comeback role?