Casting Bits: Taylor Swift Joins 'Dr. Seuss' The Lorax'; Jude Law And Aaron Johnson In Talks For 'Anna Karenina'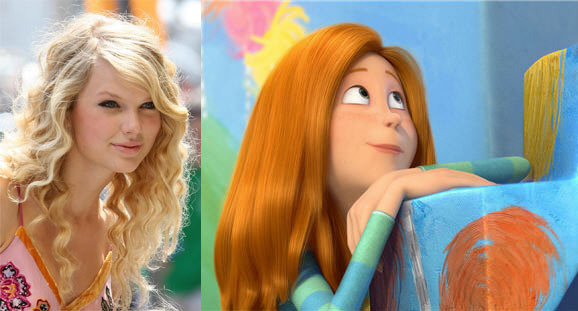 It's always upsetting to see major roles for animated characters go to high profile celebrities who have no business voice acting — or acting at all, in this case — when there so many more capable voice actors out there struggling to find consistent work. Such is the business of Hollywood. Audiences see a name they recognize, and they're more likely to buy a ticket. That's presumably the reason why Zac Efron was cast in Dr. Seuss' The Lorax, and it's almost definitely why singer Taylor Swift has been added to the voice roster as well.
Learn more about that, and the potential casting of Jude Law and Aaron Johnson in Atonement director Joe Wright's adaptation of Anna Karenina, after the break.
The Lorax marks Illumination Entertainment's third feature, following Hop and Despicable Me — the latter of which shares the same writers (Cinco Paul & Ken Daurio) and director (Chris Renaud). The film tells the story of "a boy who searches for a way to win the affection of the girl of his dreams. He comes across the story of the Lorax, the grumpy yet charming creature who fights to protect his world." Already cast for the film, aside from Efron, are Danny DeVito (as the Lorax), Ed Helms (as the tree-chopping Once-ler), Rob Riggle (as greedy industrialist O'Hare, a new character who sells fresh air) and Betty White (as Efron's wise grandmother). Those names make a lot of sense — more so, anyway, than either Zac Efron or Taylor Swift. Swift will be playing the dream girl to Efron's idealistic young boy.
Efron's voice is indistinct, but at least the actor is talented. Taylor Swift, on the other hand, has an acting career that currently consists of only one film: Valentine's Day. Even amidst that pic's vicious critical response and massive ensemble cast, Swift's performance was still singled out as one of the worst things about it. So unless she's going to be providing the film with some musical numbers, I'm not really sure what she'll be able to bring to The Lorax. [The Hollywood Reporter]
In other casting news, the latest period piece from director Joe Wright (Hanna, The Soloist) and Keira Knightley is gearing up its supporting cast. The duo have worked together twice before on Atonement and Pride and Prejudice, and now they'll be doing so once more for Anna Karenina, an adaptation of Leo Tolstoy's classic penned by Tom Stoppard (Shakespeare in Love, Brazil, Empire of the Sun). The film tells the story of "a woman stuck in a loveless marriage who struggles with her attraction to a soldier".
Who will play that soldier and sex-deprived husband? Place your bets now, because two names have popped up as being in talks for the film: Jude Law and Aaron Johnson. No details were given as to who they might play, but Law and Knightley seem like a logical romantic pairing.
More interesting to me is Aaron Johnson's endlessly eclectic film choices. He flawlessly (albeit cartoonishly) adopted an American accent whilst wearing a wetsuit and getting his ass handed to him in Kick-Ass, he took on the role of John Lennon in Nowhere Boy to impressive results, and next up he has a horror film from Japanese filmmaker Hideo Nakata (Ringu, Dark Water) called Chatroom and the 19th century Ireland-based drama Albert Nobbs. Now he's set to add 19th century Russia to the list? Something tells me he doesn't have to worry about being typecast anytime soon. [Variety]