Jennifer Lawrence Is Katniss Everdeen In 'The Hunger Games'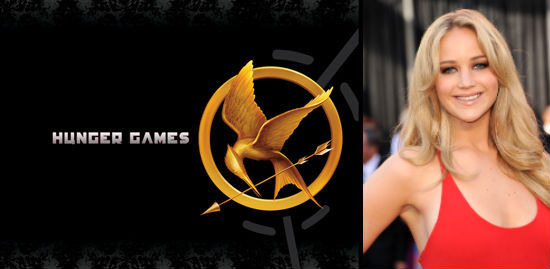 It's official. Katniss Everdeen, a 21st century literary figure almost on par with Harry Potter or Edward Cullen, will be played by a 20-year-old Oscar nominee. Jennifer Lawrence, who rose to fame very quickly after a stunning, Oscar-nominated performance in the Sundance 2010 award-winner Winter's Bone, has been cast as the lead character in The Hunger Games, director Gary Ross's adaptation of the popular young adult novel written by Suzanne Collins. Lawrence had long been rumored to be the front runner for the role and her accepting it was all but certain as of this past weekend. According to The Wrap, who broke the news, the papers were signed and sealed on Wednesday. Details were not revealed, but it's believed she's signed on for a trilogy of films.
So what does this mean for the franchise about an all powerful government who flexes its muscles by forcing children to kill each other for sport live on television? We speculate and more after the jump.
With The Wrap reporting that Lawrence is officially Katniss in The Hunger Games, it means a whole bunch of things. First of all, it means that Lionsgate and director Gary Ross have decide to age up the characters in the film. In the books, Katniss is a teenager and by the end of the trilogy, she is still a teenager. Part of what makes the books so powerful is imagining young kids killing each other and Lawrence is already beyond that age. While she'll, without a doubt, be able to pull off the complex emotional range of the character – from inspiring to pathetic, beautiful to rundown and everything in between – her casting means the film is already straying from being faithful to the books.
The questions then become "Why?" and "Is this a bad thing?" The why's are pretty straight forward. The studio and the filmmakers obviously think audiences will find it more appealing and comfortable to watch a more mature girl experience the hardships and emotions the Katniss character goes through, rather than a younger one. Plus, on the technical side, Lawrence isn't beholden to any child labor laws, so she can work as long as she needs too. If someone younger was cast, such as Hailee Steinfeld, she would only – legally – be able to work a certain amount of hours per day.
So, no, while Ross and company are slightly straying from the books, I don't think Lawrence's casting is in any way a bad thing. It shows that the film is being made with money very much in mind (which makes sense as it's set up at a mid-major studio, not one of the big boys) but that they're willing to go out there and get a fantastic actress to anchor this series. Lawrence will surely be stunning in this star-making role.
Expect all of the other roles, including the male lead of Peeta, to fall into place very soon.
The Hunger Games, written by Suzanne Collins and directed by Gary Ross, is scheduled for release March 23, 2012. If you want to know more about the series, read some of our past articles here.
Are you excited for Lawrence to inhabit such an important role?