'The Crazies' Director Breck Eisner In Early Talks To Helm 'The Last Witch Hunter'; Vin Diesel Interested In Starring?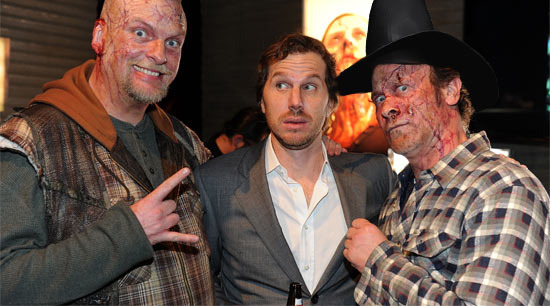 A year ago, almost to the day, Summit attached Timur Bekmambetov (Night Watch, Wanted) to produce and possibly direct a new genre franchise kick-starter they've been setting up titled The Last Witch Hunter. (Guess what it's about.) The film was one of many projects being stacked atop his very full roster, and as such, was more or less lost in the shuffle. Fast forward until now, and the director's busy getting Abraham Lincoln: Vampire Hunter prepped for production, making it unlikely that any witch hunting would go down anytime soon. But Summit can't wait around forever. Twilight has been a reliable cash cow to the studio, but the series' end is imminent, and they're looking to get their next big money maker off the ground. Enter The Crazies and Sahara director Breck Eisner, who the studio is eyeing to take over the project.
24 Frames and Deadline both have the story, but there are some contradicting details. Deadline's saying Bekmambetov remains attached as a producer, while 24 Frames claims the deal fell through completely.
Either way, Breck Eisner is Summit's man to direct, should they close the deal. Talks are still early, but the studio has been taking meetings, and Eisner is said to be "poised to land the job". It's unclear where the film might fit in with other projects he's been attached to, which include remakes of Escape from New York, Flash Gordon and David Cronenberg's The Brood.
Casting choices have yet to be made, but Vin Diesel has reportedly expressed interest in the lead role. As weirdly anachronistic as that casting would likely feel if the movie's a period piece, I think my desire to watch Vin Diesel punch witches in the face could comfortably compensate for it.
The idea for the film came from a pitch by screenwriter Cory Goodman, whose script joins his upcoming efforts Priest and Apollo 18. The story centers around a man who's one of the last of his kind, battling warlocks and "disparate covens of witches who have joined forces" to keep their population in check. But when they threaten to multiply in a major way, will he have what it takes to put a stop to them? (Spoiler alert: The answer is yes.)
Goodman's script earned a spot on 2010's Black List. Here's what he had to say about the subject matter: "Witches feel like a more open avenue than other villains or heroes. And the more I started researching them, the more I found how universal they are, with every society offering their own version of them."
Hey, it can't be worse than Season of the Witch. And at least it's not another vampire movie. (Although, its plot does sound awfully similar to Buffy the Vampire Slayer. And this. And this. And this. And this. And basically half of all not-yet-mentioned popular fantasy stories. But still... Optimism!)