'Paul' - Movie Review Plus Exclusive Video Interviews With Simon Pegg, Nick Frost And Greg Mottola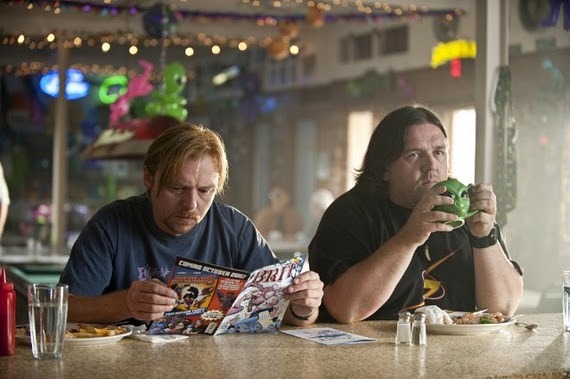 Surprising heartfelt and consistently funny, Paul is a worthy addition to several film genres. It's a solid science fiction movie, with its own unique alien back story, a fun road trip film, filled with gorgeous locales and quirky characters, and a hilarious pop culture love letter, as it's filled with references to all kinds of movies that paved the way for its existence. If you're a fan of any of those types of films, you'll find something to like with Paul. It's never flashy, it never blows your mind but it'll keep you entertained.
After the jump, read more thoughts on Paul and (re) watch our exclusive interviews conducted with co-writer and co-stars Simon Pegg, Nick Frost and director Greg Mottola.
Co-written and co-starring Simon Pegg and Nick Frost, let's get one thing out of the way. Paul does not live up to the high standards set by the pair with their previous collaborations, Shaun of the Dead and Hot Fuzz. Paul fits into that genre-bending-comedy-mold but it's never quite as electric. That's probably because director Greg Mottola (Superbad) isn't Edgar Wright. Instead of Wright's hyperkinetic camera work and editing, Mottola is much more grounded, simple and character oriented. Plus, much of his focus was spent on making a completely CG character believable, lovable and funny. In that aim, Mottola succeeds.
That character is the film's namesake, Paul, voiced and motion captured by Seth Rogen. Paul is an Area 51 escapee who runs into Pegg and Frost's characters as they're on a road trip of America's alien hotspots. Along the way, the trio gain a member (Kristen Wiig) are chased by federal agents (Jason Bateman, Bill Hader and Joe Lo Truglio) and develop a strong friendship based not only on their love of science fiction, but on humor and respect. Minutes into the movie you forget Paul is a special effect and by the end, his actions take a simple comedy and make you feel all tingly inside. To be able to do that with a CG character is quite the achievement.
Paul is at its best when its blending genres and cracking jokes, which happens all the way through. It's filled with quotable lines, hilarious moments and enough references to warrant a second viewing. But, because the film really isn't saying anything with its humor or heart, it can be easily forgettable. If you love movies that love movies, then Paul works on a whole different level. But if you've never been to Comic Con or don't care about references to E.T., Aliens, Star Wars or Close Encounters, it won't have the same impact.
Earlier this week, we posted interviews with Pegg, Frost and Mottola that were conducted at one of the locations portrayed in the movie, the Little A'Lie'Inn in Rachel, Nevada, mere miles from the gates to the mysterious Area 51. We got super geeky about the film and urge you to check out the interviews below. And, like Paul itself, a knowledge of the film certainly helps your enjoyment of these. Paul is in theaters now.
/Film Rating – 7.5 out of 10
Simon Pegg and Nick Frost:
Greg Mottola: