Jason Biggs, Seann William Scott And Eugene Levy Locked For 'American Reunion'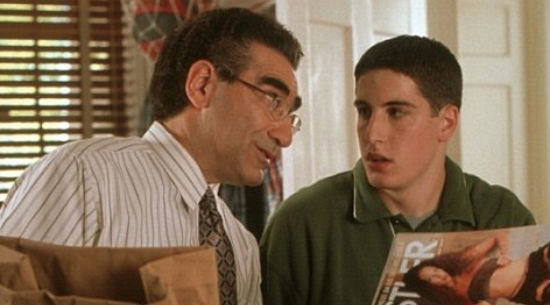 Just when you thought you'd seen the last of the gang from American Pie, Universal is baking another. They've officially locked deals with three of the stars of the original films, Jason Biggs, Seann William Scott and Eugene Levy, to appear in American Reunion, according to The Hollywood Reporter. They're also negotiating with Thomas Ian Nicholas, Tara Reid, Chris Klein, Mena Suvari and Jennifer Coolidge to reprise their roles as well. American Reunion, which would officially be the fourth American Pie movie with the original cast, but eighth (!) in a lucrative direct-to-video franchise, would surely see the gang come home to Michigan for their high school reunion.
Last year, Harold and Kumar screenwriters Jon Hurwitz and Hayden Schlossberg were rumored to be writing a script but there's no word if they're still involved. More after the jump.
The Hollywood Reporter story doesn't get into much more detail after that, and it doesn't mention the fact that Seann William Scott just checked himself into a rehab. An official statement from Scott's camp said the following:
Seann William Scott has voluntarily admitted himself for proactive treatment to address health and personal issues. He appreciates the support of his many fans at this time.
Also curiously absent from the story are other prominent names from the original films like Eddie Kay Thomas, Shannon Elizabeth, Natasha Lyonne and Alyson Hannigan for starters.
I was a huge fan of the original two films in the American Pie series because when they were released, I was the same age as the characters. American Wedding though, where Jim and Michelle (Biggs and Hannigan) got married, was horribly unfunny. However, the name is still pretty well-known thanks in part to the high quality of the first film and that its become a branded franchise spawning four very tangentially connected spin-offs: Band Camp, The Naked Mile, Beta House and The Book of Love. If they can recapture just a hint of the chemistry and humor that made the first two films into half billion dollar hits, then I'm all for this film.
What do you think of this three-year-old rumor finally coming to fruition?