DC Comic Book Bits: Early 'Wonder Woman' Logo Revealed; All Five 'Superman' Movies In One Blu Box Set; Diane Lane Talks 'Superman'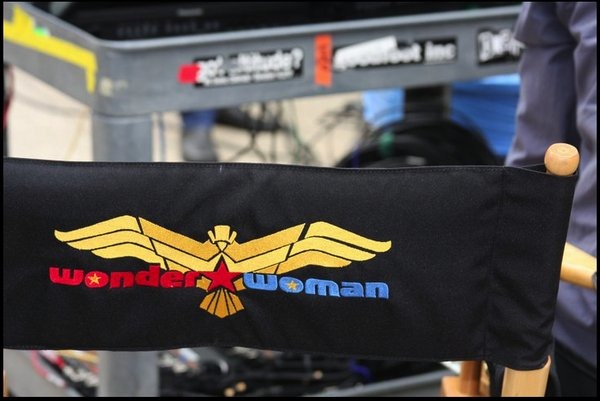 We've got quite a few little updates on comic book related projects today — enough that DC Comics characters get their own post. First up is a possible logo for Wonder Woman, seen above. This was snapped on set, but that doesn't mean it is final. It will, however, give you a general idea of the design for the new David E. Kelley produced show, which stars Adrianne Palicki as Diana Prince/Wonder Woman and Cary Elwes, Tracie Thoms, Pedro Pascal and Elizabeth Hurley. [WonderWomanTV]
After the break, Diane Lane talks about her role in Zack Snyder's Superman, and the existing Superman films get one big blu-ray release.
Diane Lane is one of the few officially announced cast members for Zack Snyder's new Superman. She plays Martha Kent, adoptive mother to Henry Cavill's Clark Kent. There's a chance that Kevin Costner will play her husband Jonathan Kent, but that isn't confirmed. Over the weekend the actress spoke in vague terms about the film, with USA Weekend writing:
"I love 300 and I'm very flattered to play Martha Kent and live up to his vision. It's pretty cool." Lane, who can be seen next in the HBO film Cinema Verite, airing April 23 (and which we'll have more about next month), is stoked about having Superman as a son. "I've always wanted to raise a good man," she quips. "I thought that was the biggest challenge a woman could have, and so I get the embarrassment of riches."
Finally, Bleeding Cool points to an Amazon UK pre-order page for The Superman Motion picture Anthology, which has a June 13, 2011 release date. The set is listed as a five-disc package on Amazon, but is also said to be region-free, which means that if the release doesn't hit quickly in the US, you'll be able to safely import the discs. (The old issue with UK PAL DVDs not being playable on most US NTSC players is largely gone, thanks to HD and Blu-ray, though there's a chance some US players will run into an issue with PAL content in non-HD bonus features.)
Now, there have been previous reports that the set would be six or eight discs, including both versions of Superman II and up to two discs of extras. This listing seems to counter that rumor, but we don't have all the details yet. If this is a five-disc set, it may include simple reissues of existing BR discs, plus the blu debuts of Superman III and Superman IV.
The Digital Bits confirms that the Anthology will be released in the US, but we don't know if it will be the same  set, or if the release date will be the same as the UK version.
Here's the box art that's making the rounds: