Megan Fox Circling Judd Apatow's 'Knocked Up' Spin-Off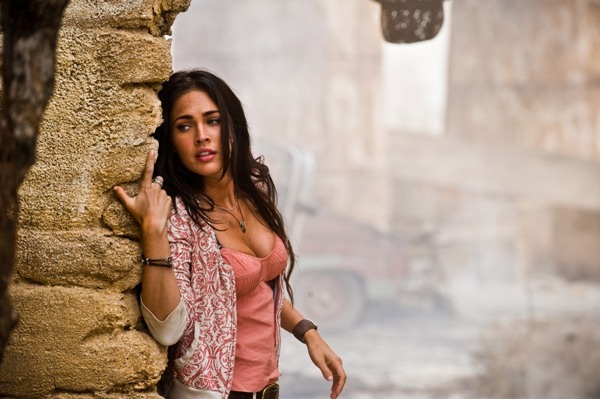 While many people find Megan Fox's performances in the Transformers films to be comedy gold, contrary to popular belief, they were not meant to elicit laughs. Her next major role could be, though, as she's currently in talks to co-star in Judd Apatow's next film, a spin-off of Knocked Up that will feature Paul Rudd and Leslie Mann reprising their roles from the 2007 hit. Apatow is keeping the plot under wraps so there's no word on who Fox will be playing, but there's a good chance she's not being cast for her mind. Read more after the break.
The Hollywood Reporter broke the news of Fox's probable casting which would mark the actress's return to big budget Hollywood after the debacle that was Jonah Hex and Michael Bay cutting her out of Transformers: Dark of the Moon. Instead of going out and whining about those two tough breaks, Fox wisely went out and concentrated on the work, getting cast in several indie films. She's co-starring with Mickey Rourke and Bill Murray in Passion Play, which premiered at the Toronto Film Festival and hits Blu-ray and DVD on May 24, and she's also in the upcoming Friends With Kids, a star-studded adult romantic comedy written and directed by Kissing Jessica Stein director Jennifer Westfeldt featuring Jon Hamm, Kristen Wiig, Ed Burns and Adam Scott.
[Note from Russ: granted, Passion Play got absolutely dismal reviews at TIFF, but it sounded as if Megan Fox's work was the very least of the film's problems.]
As for Apatow's next film, it will take place several years after Knocked Up and focus on Pete and Debbie, the "normal" family in that film portrayed by Paul Rudd and Leslie Mann. Apatow hasn't revealed much about the movie, but a few weeks ago, he did say this:
People were really taken by those characters. I think people really emotionally connected to the challenges of their marriage and I thought, you know, they were only a small portion of the movie. I'm a television writer so I always want another episode. I always want another 80 episodes. That's why after Forgetting Sarah Marshall, we said, 'What else can we do with this character Russell Brand has created here?' I felt that way about Pete and Debbie from Knocked Up.
If I was a betting man, I'd imagine Fox would be playing some kind of temptress because, for a man to even THINK about cheating on a woman as awesome as Leslie Mann's Debbie (she likes Spider-Man, after all) the girl had better be as attractive as Megan Fox.
Do you think Fox has the comedy chops to stand up to the Apatow crew?