Kevin Smith's 'Six Million Dollar Man' Script Becomes Comic, Announces History Of SNL And Miramax Podcasts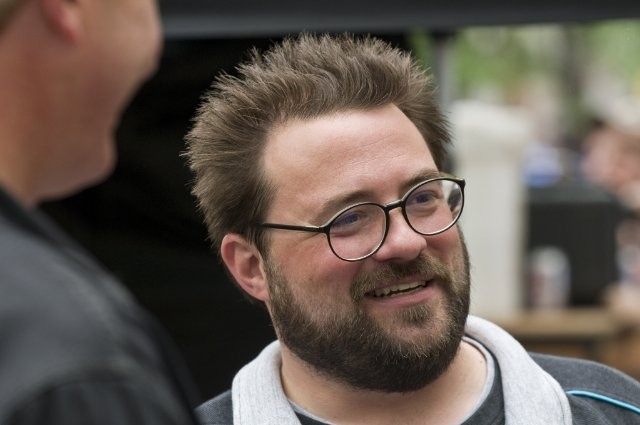 I wonder what's been happening with Kevin Smith lately. The filmmaker hasn't been in the news at all. There's that small instance of deciding to self-distribute his latest film Red State and take it out on the road, there-by reinventing himself as both a filmmaker and a person. Then there are the records the tour has broken and the creation his own online radio station filled with his SModcasts, but beyond that, Smith hardly tweets at all and has been a pretty tough nut to crack.
Due to that prolonged radio silence, we figured it was a good time for a Kevin Smith update. The man best known for writing and directing Clerks, Chasing Amy and Dogma just announced that a script he wrote a few years back for The Six Million Dollar Man is going to be adapted into a comic book and that his new podcast station, called S.I.R. (SModcast Internet Radio) will feature podcasts on the history of Saturday Night Live with co-host Jon Lovitz as well as the history of Miramax, with co-host producer Jon Gordon. Read more after the break.
The Six Million Dollar Man was a very popular television show that ran on ABC in the mid-Seventies. It starred Lee Majors as Steve Austin, a former astronaut who had mechanic parts making him superhuman. It spawned a cultural phenomenon but, incredibly, has never been officially remade as a movie (maybe because the name recognition itself is horribly dated). Still, Hollywood has tried and Kevin Smith even wrote a screenplay for a proposed remake that never saw the light of day. He recently announced on his Twitter, though, that a yet-to-be-revealed comic book veteran would be adapting that screenplay into comic book form. No word on when that'll happen but Smith will surely alert us when it does.
Also, while Smith's upcoming Internet Radio channel S.I.R doesn't launch until May, he's already ramping up some very exciting content. Just announced are two brand new shows that focus on very specific and interesting facets of pop culture – Saturday Night Live and Miramax. Here's how Kevin described the podcasts:
[Jon] Lovitz & I are gonna be doing a weekly podcast at The Lovitz [Comedy Club at Universal Studios, California] called THE ABC's of SNL. I'll interview him about ALL his SNL memories. Then, when he's done, he'll interview someone else from the show: like Carvey or Nealon. Then, that person interviews someone else from the show. Cast, crew, writers – ANYBODY connected to SNL. Starts this JUNE – only at The Lovitz! Or hear it every weekend – only on S.I.R! On May 9, S.I.R. is gonna change the SMuniverse!
After the tour, [Red State producer] Jon [Gordon] & I kick off a new show called TheHarveyBoys. The Harvey Boys podcast will be @TheJonGordon & I telling our first-person history of Miramax Films, circa 92 to 2008. We'll drive the story but we've also talked to our friends who've worked at the 'Max about guesting turns. Our list thus far is LONG, as you'd expect. The idea is to create a comprehensive oral history of the grand ol' dame of indie cinema from people who worked there, in front of & behind the cameras. And The Harvey Boys will be sponsored, naturally, by RED STATE. As you can see, the S.I.R. programming schedule is filling up nicely...
Kevin Smith was on The Opie and Anthony Show a few weeks ago at the same time as Kevin Nealon and, I have a feeling, that might have been the genesis of the SNL idea. Smith was audibly excited listening to Nealon talk about backstage at SNL stories and he's obviously a huge fan. As for The Harvey Boys, that's the name of Smith's new production company, respectfully named after the Weinsteins, who basically gave Smith his big break. Both podcasts come from a place of passion so I'm excited to check them out.
Will you listen to either of these podcasts? What about read a Smith-penned Six Million Dollar Man comic book?