Tom Hanks Attached To Play Richard Phillips In Somali Pirate Movie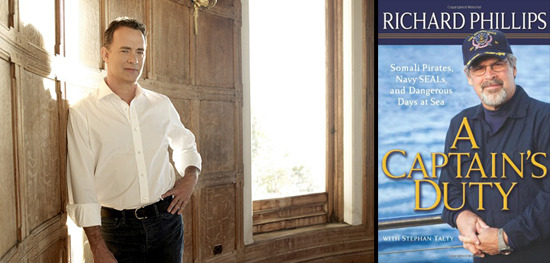 Some actors attach themselves to scores of films, most of which will never get made, or will never get made with those actors in the cast. Tom Hanks is not one of those actors. He latches on to far fewer projects, and the ones he does pick have a higher probability of getting made.
He's shooting Stephen Daldry's Extremely Loud and Incredibly Close right now, recently set up Disney's Jungle Cruise with fellow Toy Story voice talent Tim Allen, and has been strongly linked to Kathryn Bigelow's Triple Frontier.
And now Tom Hanks is attached to play Captain Richard Phillips in Sony's adaptation of the Captain's memoir about the Somali pirate hostage situation that went down in 2009.
Deadline updates on the film, which will follow Captain Phillips as he commands the cargo ship Maersk Alabama and gives himself up as a hostage when Somali pirates attack his ship. Navy SEALs eventually killed three of his captors and rescued the Captain.
Sony optioned Capt. Phillips' memoir A Captains Duty: Somali Pirates, Navy SEALs and Dangerous Days last year and set Billy Ray to write. His draft is reportedly what landed Tom Hanks. The film is being produced by Scott Rudin, who is also putting together Extremely Loud and Incredibly Close.
The last question is: what does this say about Kathryn Bigelow's Triple Frontier, for which Tom Hanks was set late last year? The shoot date for the film has been pushed back a couple times, and if Tom Hanks is going to end up doing these other films, has he moved on from Triple Frontier? We don't know for sure, but we do know that when a film's start date is pushed one of the first things to go can be attached cast, as they have to find other pictures to make.