Casting Bits: J.K. Simmons In 'Contraband;' Michelle Rodriguez In 'The Home;' Robin McLeavy In 'Abraham Lincoln: Vampire Hunter;'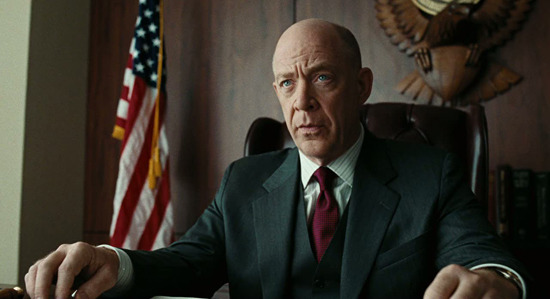 Mark Wahlberg is starring in Contraband right now — the film is a remake of the well-regarded thriller Reykjavik-Rotterdam, with Baltasar Kormakur, an actor in the original, directing the new version. The film follows a one-time smuggler (Wahlberg) who has taken a straight job as a security guard, but gets pulled back into illegal activity.
Now the ever-reliable J.K. Simmons is on board as a captain. The also-reliable Ben Foster is the brother-in-law of the main character and the guy that pulls him back into the Life; Kate Beckinsale, Giovanni Ribisi, Diego Luna and Lukas Haas are also on board. [AV Club -- this interview is wonderful and a must-read for fans of the actor.]
After the break, Michelle Rodriguez goes to The Home and Robin McLeavy joins Abraham Lincoln: Vampire Hunter after all.
Michelle Rodriguez says her next film will be a horror picture called The Home that takes place in a haunted nursing home. She says it will likely shoot in the summer as things are being set up now.
The film was written by Eric Vespe from AICN (he's Quint) and is about "a firefighter who is nearly killed during a failed rescue that leaves him physically and emotionally scarred. To recuperate, he is taken to a secluded nursing home where the elderly residents appear to be suffering from delusions. But after witnessing a violent attack, he soon realizes that the screams behind the walls are caused by more than hallucinations, and the residents are being preyed upon by twisted, monstrous nightmares that lurk within the home itself."
The film has been called Lovecraftian, and has Kristoffer Aaron Morgan set to direct in Austin, TX. When Peter last wrote about the film in January, the cast also included Brian Cox (The Bourne Identity), Cloris Leachman (Young Frankenstein), Louise Fletcher (One Flew Over the Cuckoo's Nest), Louis Gossett Jr. (The Invaders, Jaws 3D), Ed Asner (Up, The Mod Squad), and Fionnula Flanagan (Lost, The Others). [The Playlist]
Finally, there is Abraham Lincoln: Vampire Hunter. In the earlier stages of the casting process there was a report that Robin McLeavy had won the role of Mary Todd. That was incorrect — she was in contention for the part, but it went to Mary Elizabeth Winstead. Evidently Ms. McLeavy still caught the eye of the powers that be, as she now has the role of Abraham Lincoln's mother. That means she'll probably only be seen early on, but that's better than nothing. Also in the film are Benjamin Walker (Lincoln), Anthony Mackie, and Dominic Cooper.
Robin McLeavy was considered the breakout star of The Loved Ones, which most people in the US sadly haven't had a chance to see. Maybe this will get her in front of a big audience. This film starts shooting next month in 3D for a June 22 2012 release date. [Deadline]