Westboro Baptist Church Family Attends Kevin Smith's 'Red State', Leaves In Disgust After 15 Minutes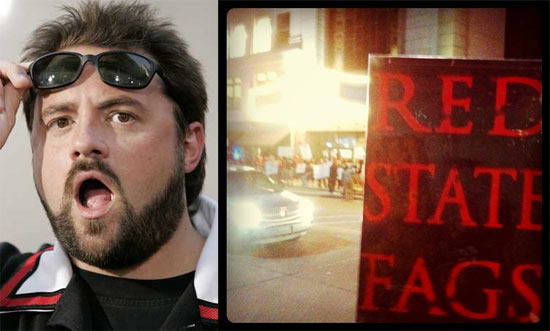 "This is gonna be like watching STAR WARS with Darth Vader right there in the audience!"
Here's one way to draw a crowd. As per his proposed self-distribution strategy — which is already proving quite promising — Kevin Smith is currently touring with Red State, and a recent showing of the flick had a dozen or more special guests: The infamous Phelps family, whose Westboro Baptist Church is the basis for Smith's film.
Following a cheerful protest by the Phelps' outside the theater and their subsequent viewing of the film, the plan was to have Megan Phelps come up on stage with another of the Phelps clan (her cousin Jael, both of whom are granddaughters to WBC founder Fred Phelps) to offer their reviews — but all did not pan out accordingly.
Here's how Smith pitched the event:
Twitter will introduce you to all sorts of interesting people. Like Megan Phelps. Over the last year, Megan and I have been carrying on a rather one-sided, torrid little Tw'affair. There were Moonlighting-like levels of sexual tension and lots of speculation about "Will They/Won't They?" After all this time of doing it digitally, me and the "Marilyn" of the Phelps' Family – Leggo-My-Meggo herself – are gonna finally meet! On a stage! For one night only! SEE the fun-filled-freak-show of a real-life Phelps Family protest as you enter! SEE RedState WITH actual members of those religious rock stars, The Family Phelps! Hear Megan Phelps' review of the movie afterwards! And lay eyes on not just one, but TWO hottie haters – as cousin, Jael joins in! The Phelps Family Bible Bunnies will be in full effect, trying to convert, and I'll be in full effect, trying to pervert. Let the fire-and-brimstonerific laugh riot begin!
Yeah, that didn't happen.
The Phelps, it would appear, are unfamiliar with Kevin Smith's past work, tolerating only 15 minutes of the movie's adolescent sex-charged dialogue before dropping off two gifts to the filmmaker — autographed signs reading "God Hates F** Enablers" and "Red State F**s" (pictured above) — and politely exiting the theater.
That didn't stop the Phelps from turning to Twitter to submit their reviews of the film, however, with Megan tweeting, "One word review of the first few minutes: filth!" and Fred Phelps' daughter Rebekah tweeting, "Red State is a vulgar piece of tacky melodrama." Smith, meanwhile, took the walk-out to be a badge of honor, tweeting, "HOLY S***! I was just given a parting gift from @MeganPhelps! SHE JUST LEFT WITH HER ENTIRE FAMILY! RED STATE DISGUSTS THE PHELPS!!!"
Not all of the Phelps family bailed on the screening. Two of the Phelps kids who disavowed the church's reprehensible ways, Libby and Josh, took the stage and gave "the straight' story of their family". You can watch that below.
You can also read the rest of the interactions between Kevin Smith and various members of the Phelps family via Smith's Twitter page, but be forewarned: Most of it consists of the WBC repeating the word "filth" over and over again, followed by Smith relishing every hateful word.