Documentary 'Conan O'Brien Can't Stop' Lands Distribution At SXSW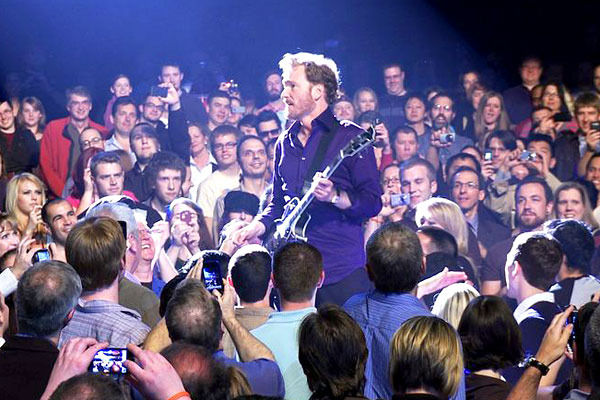 One of the documentaries to get the most attention at this year's South by Southwest Film Festival has been Conan O'Brien Can't Stop, directed by Rodman Flender, which chronicles the days after the comedian left NBC and created the 'Legally Prohibited From Being Funny on Television' tour that traveled cross-country as a comedy/music revue.
Now the 88-minute film, which premiered Sunday night, has been set for distribution via a strange conglomerate:  AT&T, Abramorama and Magnolia Home Entertainment will all handle different aspects of the film's release.
According to THR, "AT&T has come on board as a P&A and multiplatform distribution and marketing partner that will sneak the film to its AT&T U-verse TV subscribers on the eve of the film's theatrical release through Abramorama. Magnolia will handle remaining VOD and other home entertainment rights."
So the best way to see the film will probably be through the broad DVD and VOD offering, though if you've got U-Verse you'll be able to get in early, and a few cities will be able to catch a theatrical showing. AT&T will also prodvide other "exclusive content related to the film" via U-Verse and AT&T mobiles.
The doc reportedly played very well during the first Sunday showing; EW says the behind the scenes show catches Conan O'Brien's rage at his forced exit from NBC and how that was channeled into the touring stage show. The director is a long-time friend of the comedian, and he was evidently able to capture enough of his real personality that the film isn't always an easy feel-good time.
Here's a clip  from the film: